in stock
Total price
Please note that sales tax applies in the following states: New Jersey, New York and Florida. All prices are exclusive of decoration and plant.
Standard Shipping and Handling - Free for Orders Over US $150.
All packages are shipped via UPS Standard

. For shipping to Puerto Rico, or if you would like to place an Express order, please call 1-877 LECHUZA (532-4892) or (609) 395-3019 for shipping costs and information. Shipping and handling fees are not refundable.
CUBE 40 white high-gloss All-in-One Set
Set trends
Your large, tall plants feel right at home here. The trendy colors of CUBE harmonize perfectly with lush green, and make your selection easy.
CUBE All-in-One Set includes

planter + planter liner + sub-irrigation system
CUBE planter liner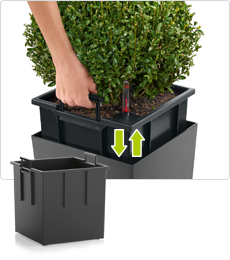 sturdy carrying handles (patented)
easy transport even for tall plantings
can be exchanged on the spot
easily moved for space-saving winter storage
The CUBE 40 planter liner also fits in the CUBICO 40, CUBICO Alto and TRIO 40.
The original LECHUZA sub-irrigation system
LECHUZA's sub-irrigation system takes care of your plants for you for up to 12 weeks, ensuring that they receive the right amount of water and nutrients they need for optimum growth.