TRENDCOVER 32 Felt light gray
The trendsetter for modern living
plus shipping
Shipping and Handling
Up to US$ 25.00 = US$ 4.95
US$ 25.01 - US$ 40.00 = US$ 6.95
US$ 40.01 - US$ 50.00= US$ 8.95
US$ 50.01 - US$ 60.00 = US$ 10.95
US$ 60.01 - US$ 70.00 = US$ 12.95
US$ 70.01 - US$ 80.00 = US$ 14.95
US$ 80.01 - US$ 90.00 = US$ 16.95
US$ 90.01 - US$ 100.00 = US$ 18.95
US$ 100.01 - US$ 150.00 = US$ 20.95
Over US$ 150.00 = free shipping
Special features:
Self-watering planter with water level indicator
Removable planter liner
High-quality natural-looking surfaces
High-quality pure mineral plant substrate included
For indoor use
Made from natural materials for even more style: TRENDCOVER creates a cozy living ambience with natural surfaces. The trendy combination of a sleek design with a chic felt or cork look and functional plant insert brings natural flair into the home. The TRENDCOVER is compatible with the original LECHUZA irrigation system and water reservoir so your interior design is in your hands and always on trend. The different variants provide decorative variety for every home: whether felt or cork, light or dark - with our wide selection there is something for everyone's taste.
Product information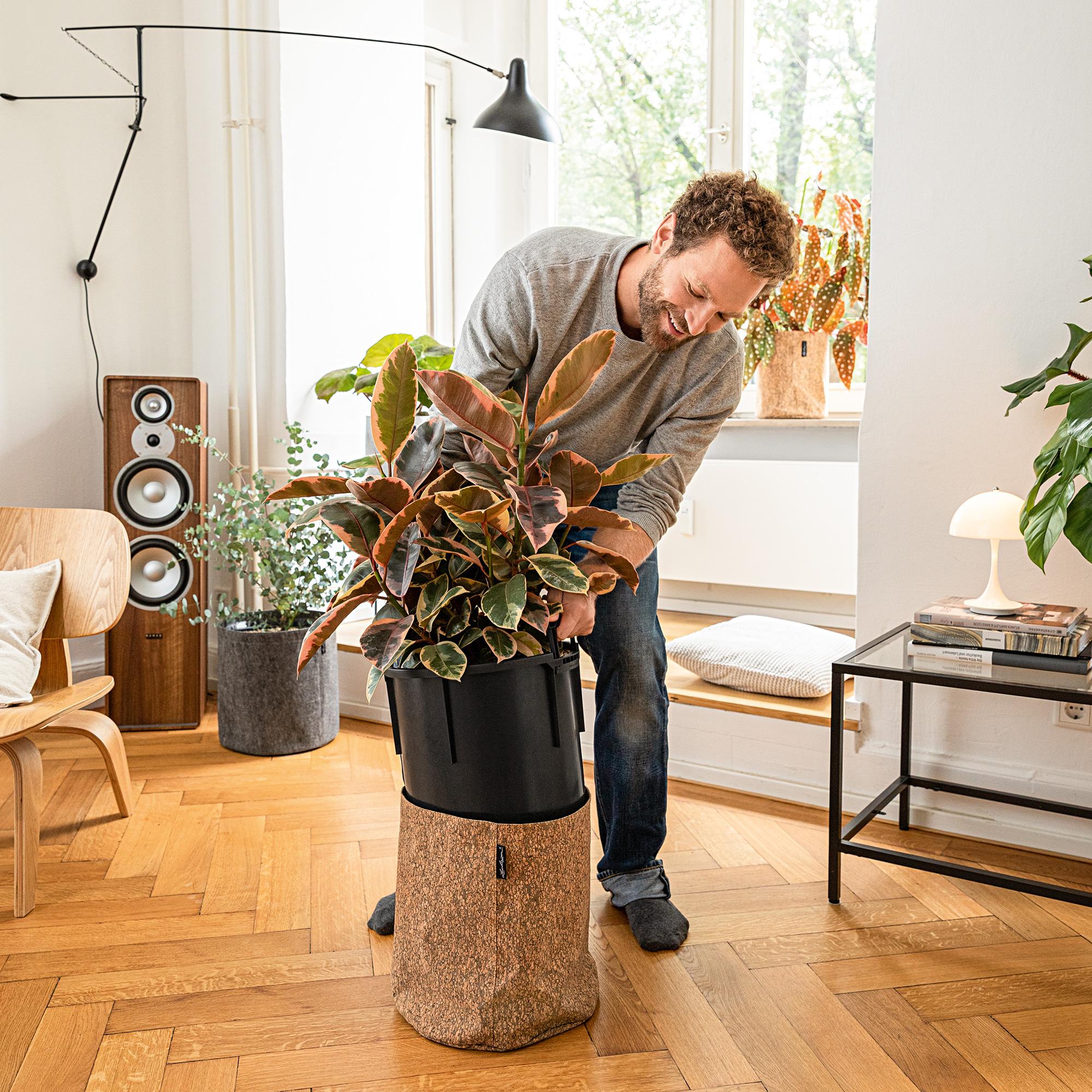 TRENDCOVER planter liner
sturdy carrying handles (patented)
easy transport even for tall plantings
Dimensions & Capacity
| | | |
| --- | --- | --- |
| | TRENDCOVER 23 | TRENDCOVER 32 |
| Dimensions ~ (W x H) | Ø 9.1 x 16.1 inch | Ø 12.6 x 13 inch |
| Water reservoir | 0.45 US.liq.gal | 1 US.liq.gal |
| Plant volume | 1.2 US.dry.gal | 3 US.dry.gal |
| Planter liner, dimension ~ | Ø 7.8 inch | Ø 10.9 inch |
| Planting depth | 7.1 inch | 9 inch |
| Plant height max. | 15.7 inch | 24 inch |
TRENDCOVER 32
| | |
| --- | --- |
| Dimensions ~ (W x H) | Ø 12.6 x 13 inch |
| Water reservoir | 1 US.liq.gal |
| Plant volume | 3 US.dry.gal |
| Planter liner, dimension ~ | Ø 10.9 inch |
| Planting depth | 9 inch |
| Plant height max. | 24 inch |
TRENDCOVER 23
| | |
| --- | --- |
| Dimensions ~ (W x H) | Ø 9.1 x 16.1 inch |
| Water reservoir | 0.45 US.liq.gal |
| Plant volume | 1.2 US.dry.gal |
| Planter liner, dimension ~ | Ø 7.8 inch |
| Planting depth | 7.1 inch |
| Plant height max. | 15.7 inch |
* A lechuza.us exclusive. While supplies last. Offer is valid on in-stock-items. Offer not valid on prior orders or pending orders. No adjustments can be made on previous purchases. Cannot be combined with any other promotion and/or offer. Promotional discount cannot be redeemed for cash or credit. Minimum purchase $50. No rain checks. Discount will be reflected at checkout. Offer valid from December 4- 15th, 2023 (offer ends 11:59 P.M. E.S.T.)