CANTO Premium 40 high white high-gloss
Shiny eyecatcher
Availability:
This item is currently not available.
free shipping
Shipping and Handling
Up to US$ 25.00 = US$ 4.95
US$ 25.01 - US$ 40.00 = US$ 6.95
US$ 40.01 - US$ 50.00= US$ 8.95
US$ 50.01 - US$ 60.00 = US$ 10.95
US$ 60.01 - US$ 70.00 = US$ 12.95
US$ 70.01 - US$ 80.00 = US$ 14.95
US$ 80.01 - US$ 90.00 = US$ 16.95
US$ 90.01 - US$ 100.00 = US$ 18.95
US$ 100.01 - US$ 150.00 = US$ 20.95
Over US$ 150.00 = free shipping
Please note that due to the high data volume, the 3D viewer should be loaded with an existing WLAN connection. On mobile devices, the viewer allows you an augmented reality (AR) function. You can visualize a LECHUZA planter in your room. To do so, please click on the cube icon.
High-gloss surfaces, clear edges – as elegant design elements, the CANTO Premium 40 high and low planters fit into any living style and will bring modern design into homes. The two planters with the varnished surface stylishly set the scene for plants in living spaces and offer them the best growing conditions – whether in the trendy matte metallic look or in clean high-gloss white. The integrated Original LECHUZA irrigation system guarantees that the green roommates receive optimal care.

Since the uniformly black planter liner is equipped with practical retractable handles, the plants can be moved between CANTO Premium high & low thanks to the identical internal dimensions. This makes it possible to redecorate or change the planting quickly and easily. An optional coaster is available for both versions, so CANTO Premium always remains mobile.
Product information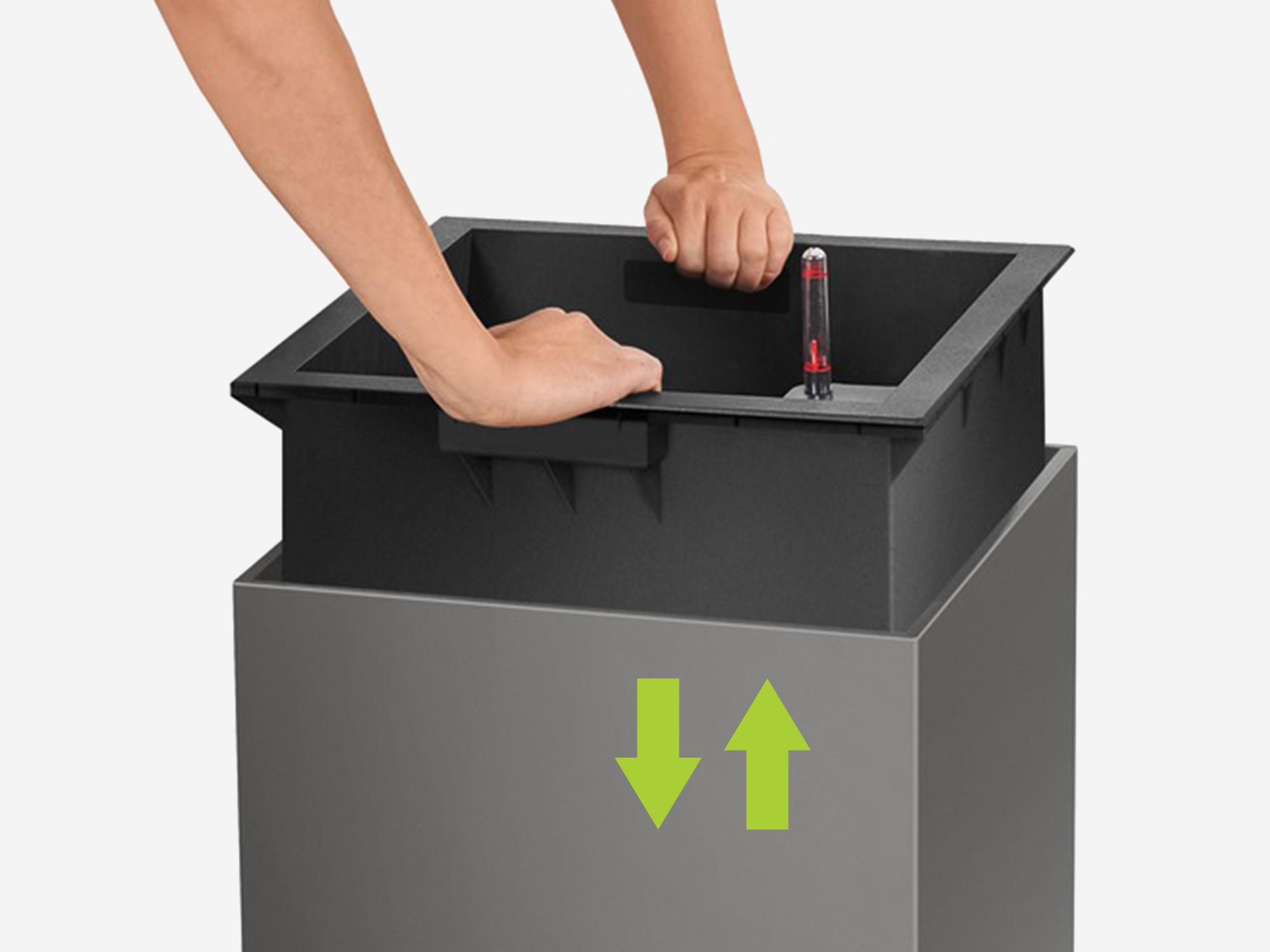 CANTO Premium high planter liner
interchangeable, color neutral planter liner – closed, with integrated handles
easy transport even for tall plantings
can be exchanged on the spot and easily moved for winter storage
for indoor and outdoor planting, with drain plug
Dimensions & Capacity
| | |
| --- | --- |
| | CANTO Premium 40 high |
| Dimensions ~ (W x D x H) | 15.8 x 15.8 x 30 inch |
| Water reservoir | 1.8 US.liq.gal |
| Plant volume | 6.6 US.dry.gal |
| Planter liner, dimension ~ | 13.4 x 13.4 inch |
| Planting depth | 9.8 inch |
| Plant height max. | 39.4 inch |
CANTO Premium 40 high
| | |
| --- | --- |
| Dimensions ~ (W x D x H) | 15.8 x 15.8 x 30 inch |
| Water reservoir | 1.8 US.liq.gal |
| Plant volume | 6.6 US.dry.gal |
| Planter liner, dimension ~ | 13.4 x 13.4 inch |
| Planting depth | 9.8 inch |
| Plant height max. | 39.4 inch |
¹ A lechuza.us exclusive. Offer valid on OJO planters. While supplies last. Offer is valid on in-stock-items. Offer not valid on prior orders or pending orders. No adjustments can be made on previous purchases. Cannot be combined with any other promotion and/or offer. Promotional discount cannot be redeemed for cash or credit. No rain checks. Discount will be reflected at checkout. Offer valid from August 4-15, 2022 (offer ends 11:59 P.M. E.S.T.)