CLASSICO 60 white high-gloss
Planter + Removable Separator + Water level indicator + Plant substrate for drainage layer
free shipping
Shipping and Handling
Up to US$ 25.00 = US$ 4.95
US$ 25.01 - US$ 40.00 = US$ 6.95
US$ 40.01 - US$ 50.00= US$ 8.95
US$ 50.01 - US$ 60.00 = US$ 10.95
US$ 60.01 - US$ 70.00 = US$ 12.95
US$ 70.01 - US$ 80.00 = US$ 14.95
US$ 80.01 - US$ 90.00 = US$ 16.95
US$ 90.01 - US$ 100.00 = US$ 18.95
US$ 100.01 - US$ 150.00 = US$ 20.95
Over US$ 150.00 = free shipping
Please note that due to the high data volume, the 3D viewer should be loaded with an existing WLAN connection. On mobile devices, the viewer allows you an augmented reality (AR) function. You can visualize a LECHUZA planter in your room. To do so, please click on the cube icon.
The harmonious round shape of the popular CLASSICO nestles into all rooms. The LECHUZA all-rounder is suitable for every plant, no matter whether it is a sculptural Sanseviera or a bushy violin fig. With many different sizes and colours, CLASSICO is the ideal partner for all plant lovers who want to present their green roommates in a modern and stylish way.
CLASSICO 60 and 70 are as All-in-One sets with conventional sub-irrigation system.
Available accessories:
Coasters
Product information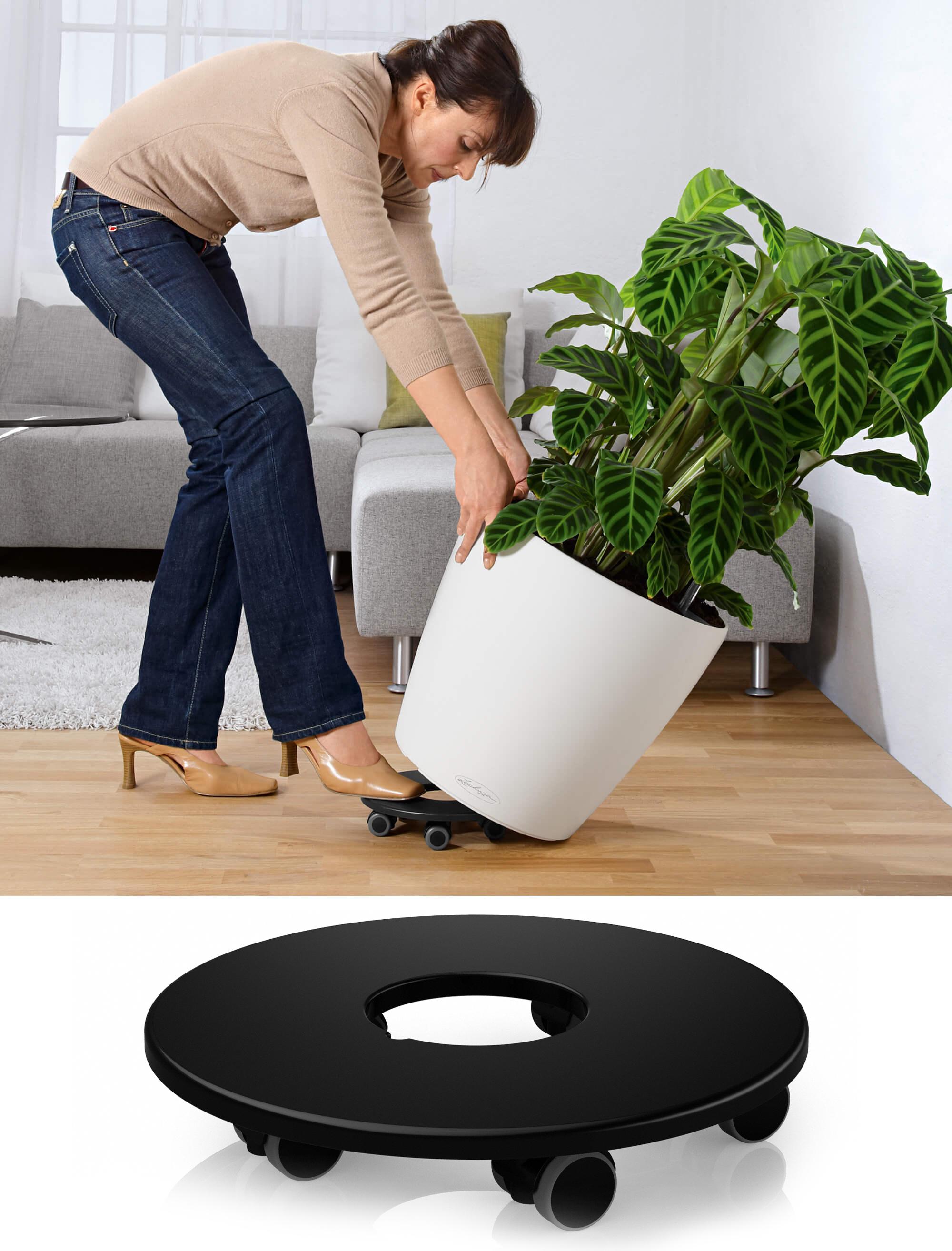 Available Accessories: Coaster
mobile in every direction
with sturdy rollers
makes CLASSICO mobile – without being seen
for sizes 60, 70
Dimensions & Capacity
| | | |
| --- | --- | --- |
| | CLASSICO 60 | CLASSICO 70 |
| Dimensions ~ (W x H) | Ø 23.6 x 21.9 inch | Ø 27.6 x 25.4 inch |
| Water reservoir | 4.5 US.liq.gal | 7.0 US.liq.gal |
| Plant volume | 20.4 US.dry.gal | 32.9 US.dry.gal |
| Planter liner, dimension ~ | Ø 22.5 inch | Ø 26,4 inch |
| Planting depth | 15 inch | 18 inch |
| Plant height max. | 55 inch | 67 inch |
CLASSICO 60
| | |
| --- | --- |
| Dimensions ~ (W x H) | Ø 23.6 x 21.9 inch |
| Water reservoir | 4.5 US.liq.gal |
| Plant volume | 20.4 US.dry.gal |
| Planter liner, dimension ~ | Ø 22.5 inch |
| Planting depth | 15 inch |
| Plant height max. | 55 inch |
CLASSICO 70
| | |
| --- | --- |
| Dimensions ~ (W x H) | Ø 27.6 x 25.4 inch cm |
| Water reservoir | 7.0 US.liq.gal |
| Plant volume | 32.9 US.dry.gal |
| Planter liner, dimension ~ | Ø 26,4 inch |
| Planting depth | 18 inch |
| Plant height max. | 67 inch |
¹ A lechuza.us exclusive. While supplies last. Offer is valid on in-stock-items. Offer not valid on prior orders or pending orders. No adjustments can be made on previous purchases. Cannot be combined with any other promotion and/or offer. Promotional discount cannot be redeemed for cash or credit. No rain checks. Discount will be reflected at checkout. Offer valid from Sep 22 - Oct 2, 2023 (offer ends 11:59 P.M. E.S.T.)