CLASSICO LS 28 white high-gloss
Discreet elegance
Availability:
This item is currently not available.
plus shipping
Shipping and Handling
Up to US$ 25.00 = US$ 4.95
US$ 25.01 - US$ 40.00 = US$ 6.95
US$ 40.01 - US$ 50.00= US$ 8.95
US$ 50.01 - US$ 60.00 = US$ 10.95
US$ 60.01 - US$ 70.00 = US$ 12.95
US$ 70.01 - US$ 80.00 = US$ 14.95
US$ 80.01 - US$ 90.00 = US$ 16.95
US$ 90.01 - US$ 100.00 = US$ 18.95
US$ 100.01 - US$ 150.00 = US$ 20.95
Over US$ 150.00 = free shipping
Please note that due to the high data volume, the 3D viewer should be loaded with an existing WLAN connection. On mobile devices, the viewer allows you an augmented reality (AR) function. You can visualize a LECHUZA planter in your room. To do so, please click on the cube icon.
CLASSICO LS offers countless design possibilities in five different sizes and seven elegant high-gloss and metallic colours for almost all room and plant sizes. Thanks to the practical plant insert with handle inside the planter, plant arrangements are preserved all year round and can be changed and redesigned again and again without great effort.
The unique advantages of CLASSICO LS:
Changing the planting is easy
Trimming roots is a snap
Our tip: From time to time, rinse the plant in the interchangeable liner under running water to remove dust.
Mobile even when planted: CLASSICO 43 to 70 is mobile even when planted thanks to the optional coaster.
Product information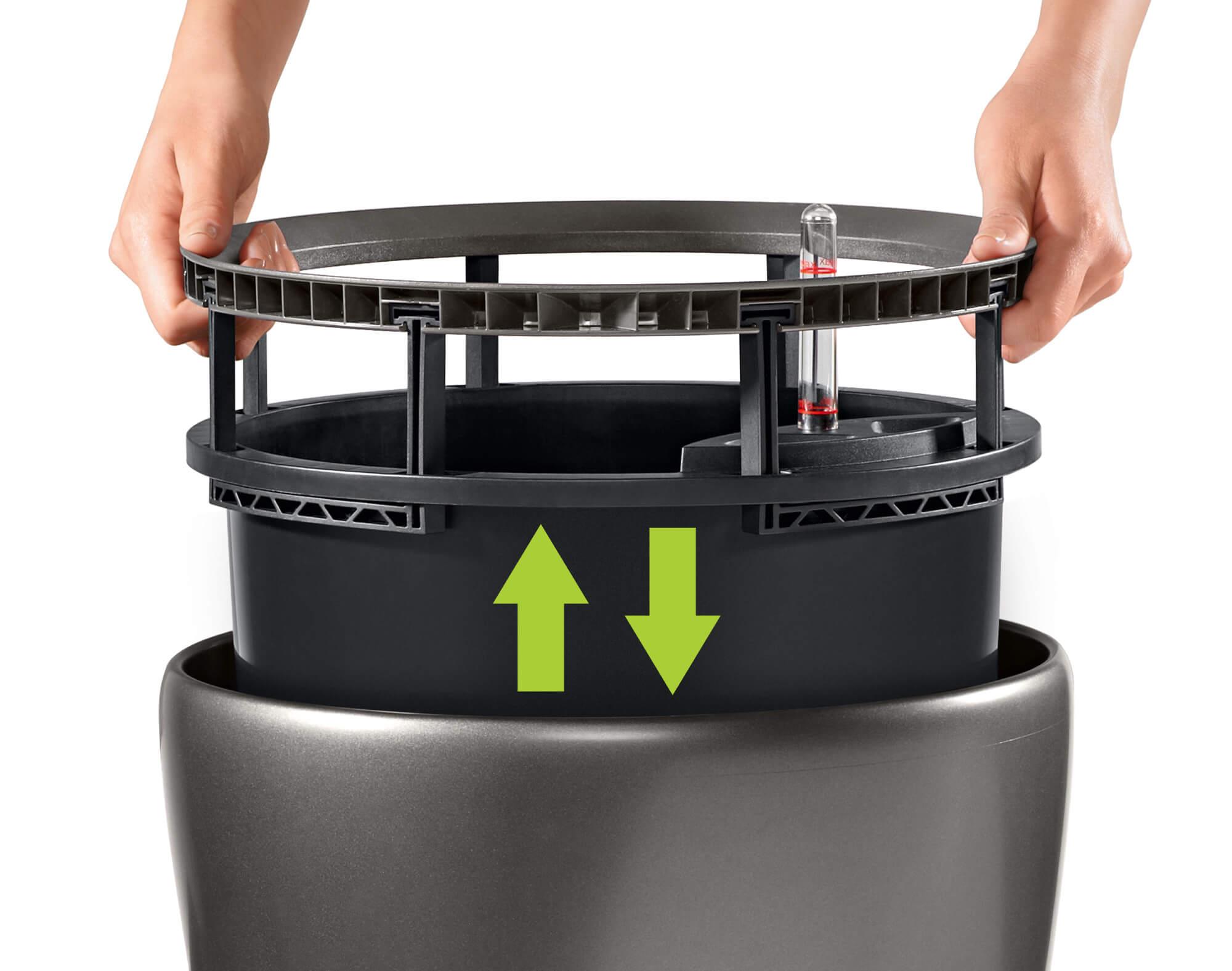 Planter liner
recessed color-coordinated frame handles (patented)
easy transport even for tall plantings
can be exchanged on the spot
change plants, repot them, trim the roots or rinse the leaves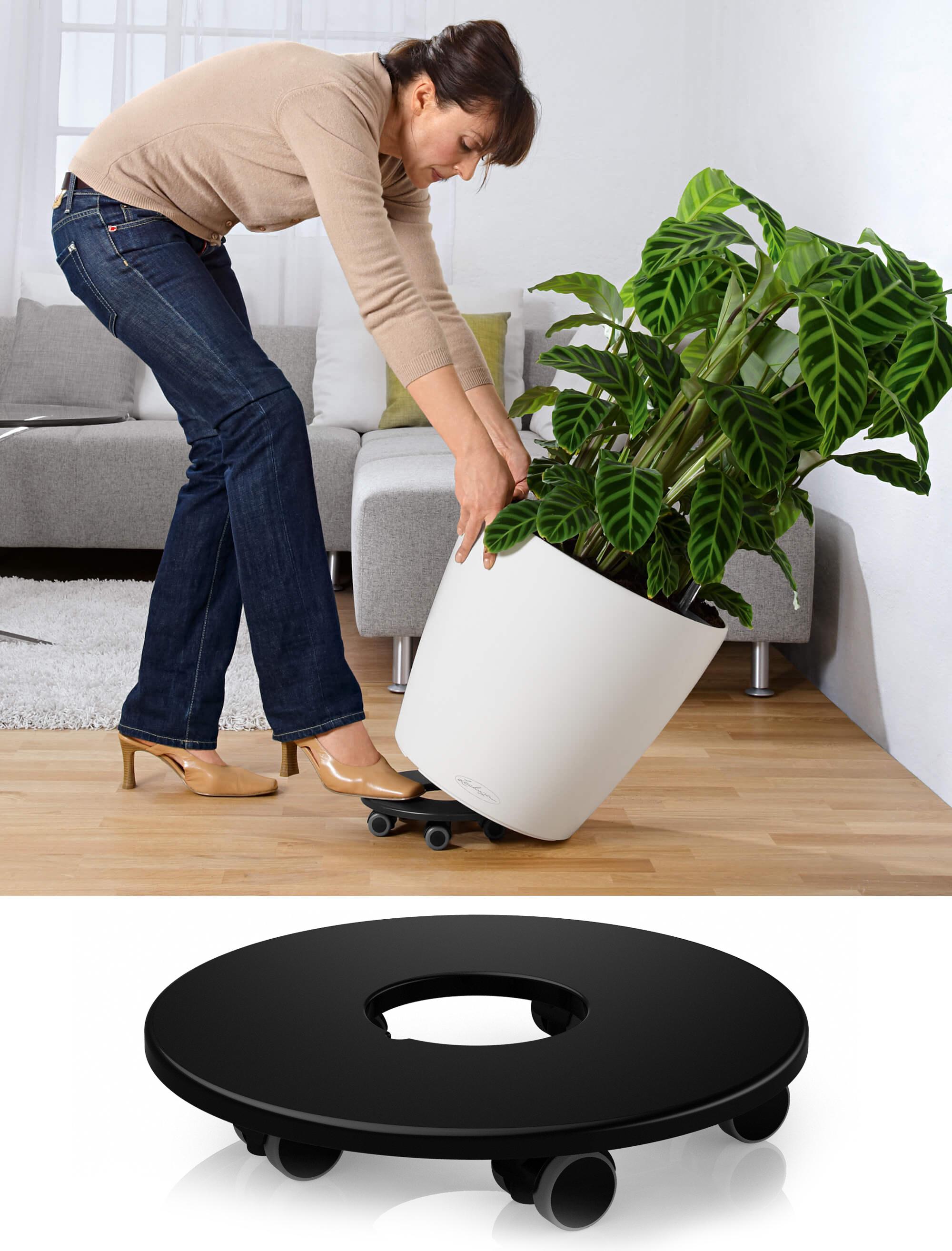 Available accessories: coaster
mobile in every direction
with sturdy rollers
makes CLASSICO mobile – without being seen
for sizes 43, 50
Dimensions & Capacity
| | | | | | |
| --- | --- | --- | --- | --- | --- |
| | CLASSICO LS 21 | CLASSICO LS 28 | CLASSICO LS 35 | CLASSICO LS 43 | CLASSICO LS 50 |
| Dimensions ~ (W x H) | Ø 8.7 x 7.9 inch | Ø 11.2 x 10.3 inch | Ø 14.2 x 12.8 inch | Ø 17.1 x 15.6 inch | Ø 19.5 x 18.3 inch |
| Water reservoir | 0.3 US.liq.gal | 68 US.fl.oz | 1.0 US.liq.gal | 1.6 US.liq.gal | 2.4 US.liq.gal |
| Plant volume | 0.7 US.dry.gal | 1.6 US.dry.gal | 3.0 US.dry.gal | 6.3 US.dry.gal | 9.1 US.dry.gal |
| Planter liner, dimension ~ | Ø 7.3 inch | Ø 9.5 inch | Ø 11.6 inch | Ø 14.4 inch | Ø 16.7 inch |
| Planting depth | 5 inch | 7.0 inch | 9.0 inch | 10 inch | 12 inch |
| Plant height max. | 20 inch | 28 inch | 35 inch | 39 inch | 47 inch |
CLASSICO LS 28
| | |
| --- | --- |
| Dimensions ~ (W x H) | Ø 11.2 x 10.3 inch |
| Water reservoir | 68 US.fl.oz |
| Plant volume | 1.6 US.dry.gal |
| Planter liner, dimension ~ | Ø 9.5 inch |
| Planting depth | 7.0 inch |
| Plant height max. | 28 inch |
CLASSICO LS 35
| | |
| --- | --- |
| Dimensions ~ (W x H) | Ø 14.2 x 12.8 inch |
| Water reservoir | 1.0 US.liq.gal |
| Plant volume | 3.0 US.dry.gal |
| Planter liner, dimension ~ | Ø 11.6 inch |
| Planting depth | 9.0 inch |
| Plant height max. | 35 inch |
CLASSICO SL 43
| | |
| --- | --- |
| Dimensions ~ (W x H) | Ø 17.1 x 15.6 inch |
| Water reservoir | 1.6 US.liq.gal |
| Plant volume | 6.3 US.dry.gal |
| Planter liner, dimension ~ | Ø 14.4 inch |
| Planting depth | 10 inch |
| Plant height max. | 39 inch |
CLASSICO LS 50
| | |
| --- | --- |
| Dimensions ~ (W x H) | Ø 19.5 x 18.3 inch |
| Water reservoir | 2.4 US.liq.gal |
| Plant volume | 9.1 US.dry.gal |
| Planter liner, dimension ~ | Ø 16.7 inch |
| Planting depth | 12 inch |
| Plant height max. | 47 inch |
CLASSICO LS 21
| | |
| --- | --- |
| Dimensions ~ (W x H) | Ø 8.7 x 7.9 inch |
| Water reservoir | 0.3 US.liq.gal |
| Plant volume | 0.7 US.dry.gal |
| Planter liner, dimension ~ | Ø 7.3 inch |
| Planting depth | 5 inch |
| Plant height max. | 20 inch |
¹ A lechuza.us exclusive. While supplies last. Offer is valid on in-stock-items. Offer not valid on prior orders or pending orders. No adjustments can be made on previous purchases. Cannot be combined with any other promotion and/or offer. Promotional discount cannot be redeemed for cash or credit. Minimum purchase $75. No rain checks. Discount will be reflected at checkout. Offer valid from May 22-31, 2023 (offer ends 11:59 P.M. E.S.T.)