CLASSICO LS 50 charcoal metallic
with interchangeable planter liner
free shipping
Shipping and Handling
Up to US$ 25.00 = US$ 4.95
US$ 25.01 - US$ 40.00 = US$ 6.95
US$ 40.01 - US$ 50.00= US$ 8.95
US$ 50.01 - US$ 60.00 = US$ 10.95
US$ 60.01 - US$ 70.00 = US$ 12.95
US$ 70.01 - US$ 80.00 = US$ 14.95
US$ 80.01 - US$ 90.00 = US$ 16.95
US$ 90.01 - US$ 100.00 = US$ 18.95
US$ 100.01 - US$ 150.00 = US$ 20.95
Over US$ 150.00 = free shipping
CLASSICO LS with interchangeable planter liner (patented), called liner system.
The unique advantages of CLASSICO LS:
Changing the planting is easy
Trimming roots is a snap
Our tip: From time to time, rinse the plant in the interchangeable liner under running water to remove dust.
Mobile even when planted: CLASSICO 43 to 70 is mobile even when planted thanks to the optional coaster.
Product information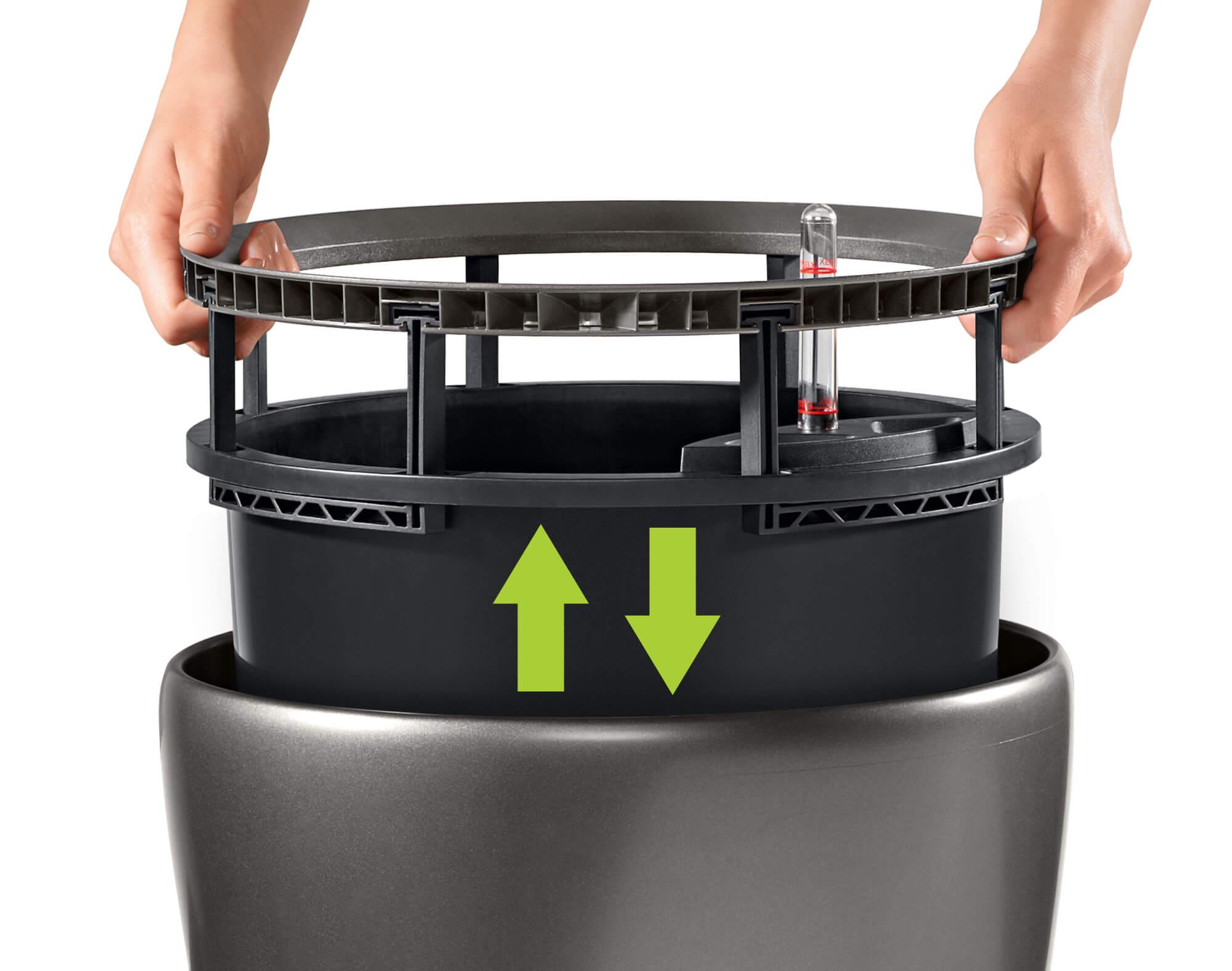 Planter liner
recessed color-coordinated frame handles (patented)
easy transport even for tall plantings
can be exchanged on the spot
change plants, repot them, trim the roots or rinse the leaves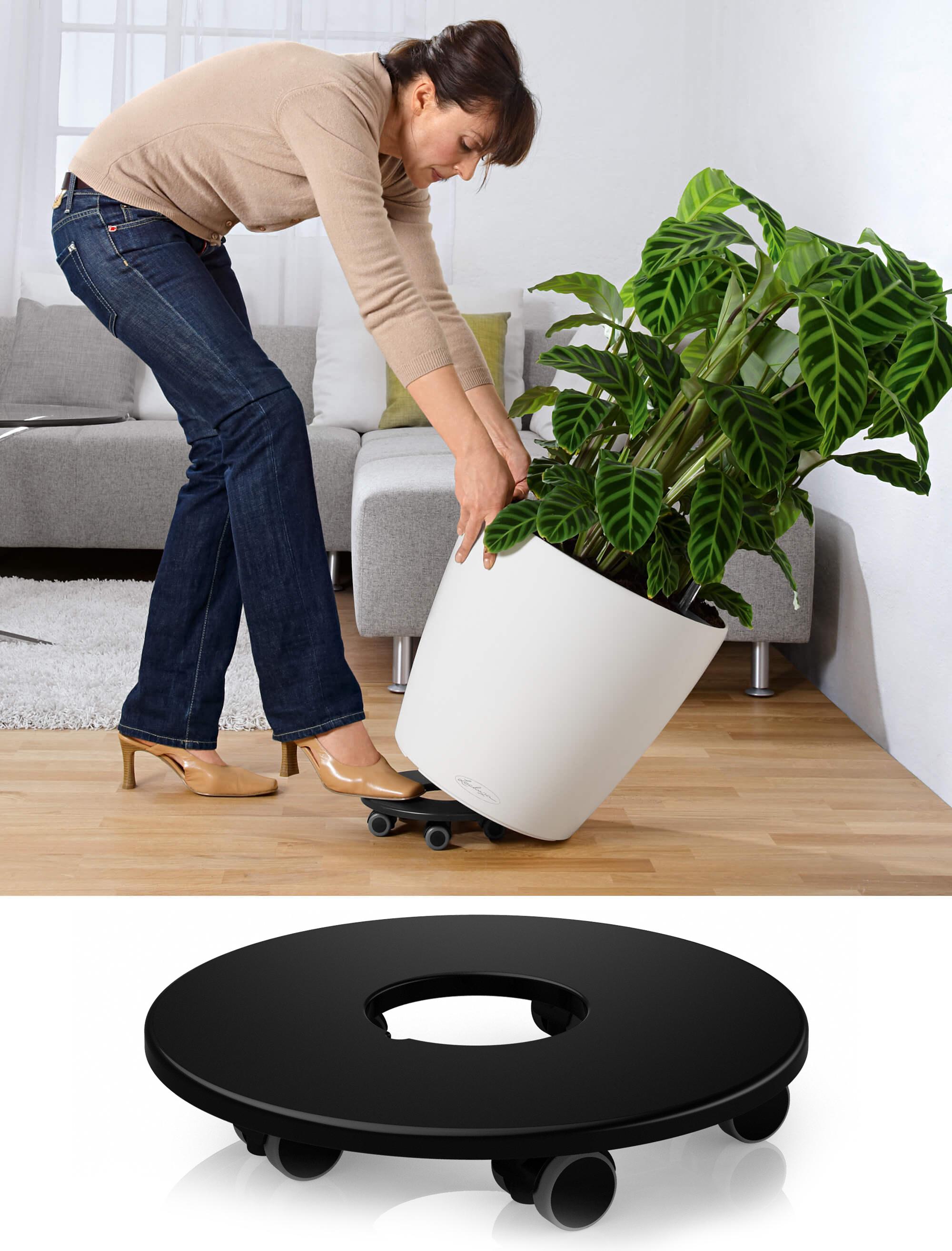 Available accessories: coaster
mobile in every direction
with sturdy rollers
makes CLASSICO mobile – without being seen
for sizes 43, 50
Dimensions & Capacity
| | | | | | |
| --- | --- | --- | --- | --- | --- |
| | CLASSICO LS 21 | CLASSICO LS 28 | CLASSICO LS 35 | CLASSICO LS 43 | CLASSICO LS 50 |
| Dimensions ~ (W x H) | Ø 8.7 x 7.9 inch | Ø 11.2 x 10.3 inch | Ø 14.2 x 12.8 inch | Ø 17.1 x 15.6 inch | Ø 19.5 x 18.3 inch |
| Water reservoir | 0.3 US.liq.gal | 68 US.fl.oz | 1.0 US.liq.gal | 1.6 US.liq.gal | 2.4 US.liq.gal |
| Plant volume | 0.7 US.dry.gal | 1.6 US.dry.gal | 3.0 US.dry.gal | 6.3 US.dry.gal | 9.1 US.dry.gal |
| Planter liner, dimension ~ | Ø 7.3 inch | Ø 9.5 inch | Ø 11.6 inch | Ø 14.4 inch | Ø 16.7 inch |
| Planting depth | 5 inch | 7.0 inch | 9.0 inch | 10 inch | 12 inch |
| Plant height max. | 20 inch | 28 inch | 35 inch | 39 inch | 47 inch |
CLASSICO LS 50
| | |
| --- | --- |
| Dimensions ~ (W x H) | Ø 19.5 x 18.3 inch |
| Water reservoir | 2.4 US.liq.gal |
| Plant volume | 9.1 US.dry.gal |
| Planter liner, dimension ~ | Ø 16.7 inch |
| Planting depth | 12 inch |
| Plant height max. | 47 inch |
CLASSICO LS 21
| | |
| --- | --- |
| Dimensions ~ (W x H) | Ø 8.7 x 7.9 inch |
| Water reservoir | 0.3 US.liq.gal |
| Plant volume | 0.7 US.dry.gal |
| Planter liner, dimension ~ | Ø 7.3 inch |
| Planting depth | 5 inch |
| Plant height max. | 20 inch |
CLASSICO LS 28
| | |
| --- | --- |
| Dimensions ~ (W x H) | Ø 11.2 x 10.3 inch |
| Water reservoir | 68 US.fl.oz |
| Plant volume | 1.6 US.dry.gal |
| Planter liner, dimension ~ | Ø 9.5 inch |
| Planting depth | 7.0 inch |
| Plant height max. | 28 inch |
CLASSICO LS 35
| | |
| --- | --- |
| Dimensions ~ (W x H) | Ø 14.2 x 12.8 inch |
| Water reservoir | 1.0 US.liq.gal |
| Plant volume | 3.0 US.dry.gal |
| Planter liner, dimension ~ | Ø 11.6 inch |
| Planting depth | 9.0 inch |
| Plant height max. | 35 inch |
CLASSICO SL 43
| | |
| --- | --- |
| Dimensions ~ (W x H) | Ø 17.1 x 15.6 inch |
| Water reservoir | 1.6 US.liq.gal |
| Plant volume | 6.3 US.dry.gal |
| Planter liner, dimension ~ | Ø 14.4 inch |
| Planting depth | 10 inch |
| Plant height max. | 39 inch |