CLASSICO Color 70 sand brown
Timelessly modern
free shipping
Shipping and Handling
Up to US$ 25.00 = US$ 4.95
US$ 25.01 - US$ 40.00 = US$ 6.95
US$ 40.01 - US$ 50.00= US$ 8.95
US$ 50.01 - US$ 60.00 = US$ 10.95
US$ 60.01 - US$ 70.00 = US$ 12.95
US$ 70.01 - US$ 80.00 = US$ 14.95
US$ 80.01 - US$ 90.00 = US$ 16.95
US$ 90.01 - US$ 100.00 = US$ 18.95
US$ 100.01 - US$ 150.00 = US$ 20.95
Over US$ 150.00 = free shipping
Please note that due to the high data volume, the 3D viewer should be loaded with an existing WLAN connection. On mobile devices, the viewer allows you an augmented reality (AR) function. You can visualize a LECHUZA planter in your room. To do so, please click on the cube icon.
With its timeless shape, the popular CLASSICO Color is a must-have in any home. Its discreet matte colors and modern design blend wonderfully into any ambience - whether in the living room or on the balcony and terrace.

The CLASSICO Color family shows off an aesthetic appearance, high-quality design and smart functionality. Thanks to the reliable LECHUZA soil irrigation system, the plants can take as much water and nutrients as and when they need it and, in outdoor areas, the removable bottom screw protects against waterlogging in heavy rain.

The tastefully simple design and the silky matte surface in the harmonious colors white, slate grey and nutmeg set the scene for indoor and outdoor plants, and make the plant pot an indispensable partner. The matching CLASSICO Color is now available for all plants - for a uniform, modern look. A classic combination with a big effect!

Available accessories from CLASSICO Color 43: Roller coaster
Product information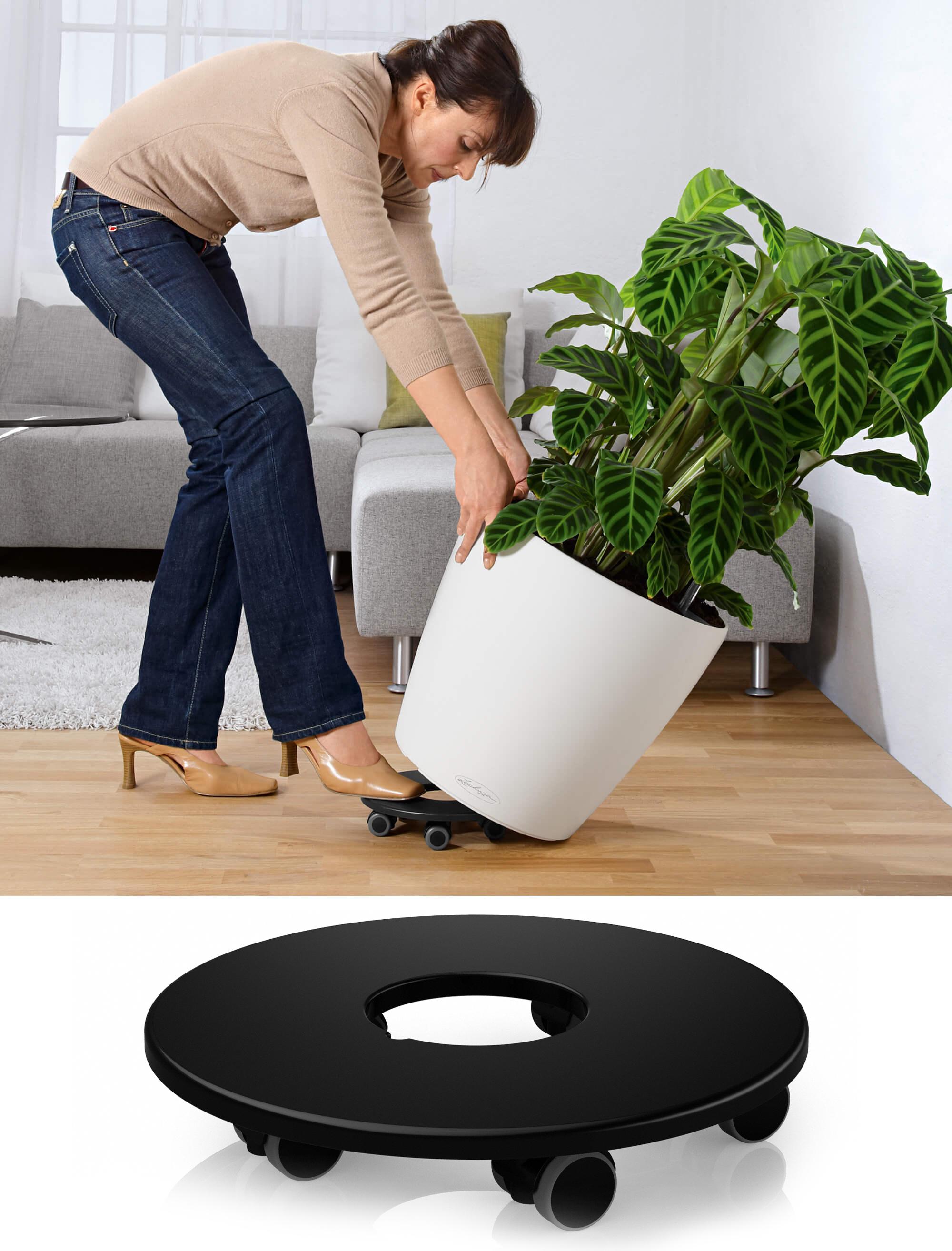 Available Accessories: Coaster
mobile in every direction
with sturdy rollers
makes CLASSICO mobile – without being seen
for sizes 43, 60
¹ Discount applies to item of equal or lesser value. A lechuza.us exclusive. While supplies last. Offer is valid on in-stock-items. Offer not valid on prior orders or pending orders. No adjustments can be made on previous purchases. Cannot be combined with any other promotion and/or offer. Promotional discount cannot be redeemed for cash or credit. No rain checks. Discount will be reflected at checkout once two items are added to the cart. Offer valid from June 1-12, 2023 (offer ends 11:59 P.M. E.S.T.).