LECHUZA Balcony brackets white (2 pcs)
suitable for mounting on railings (incl. 2 x belt strap) or on walls
Availability:
This item is currently not available.
plus shipping
Shipping and Handling
Up to US$ 25.00 = US$ 4.95
US$ 25.01 - US$ 40.00 = US$ 6.95
US$ 40.01 - US$ 50.00= US$ 8.95
US$ 50.01 - US$ 60.00 = US$ 10.95
US$ 60.01 - US$ 70.00 = US$ 12.95
US$ 70.01 - US$ 80.00 = US$ 14.95
US$ 80.01 - US$ 90.00 = US$ 16.95
US$ 90.01 - US$ 100.00 = US$ 18.95
US$ 100.01 - US$ 150.00 = US$ 20.95
Over US$ 150.00 = free shipping
With the LECHUZA balcony brackets, you can easily mount your BALCONERA planters on your balcony railing or on a wall. Thanks to its intelligent design, the balcony brackets are obscured by the front part of the BALCONERA planter and is thus completely inconspicuous to the observer from the front. The adjusting screws of the balcony brackets also enable optimum alignment on the balcony railing.
The pairs of brackets are approved for planters with a maximum total weight of 55 Ibs and are suitable for mounting on the wall as well as on a balcony railing with a maximum circumference of up to 12.6 inches. If the circumference of your balcony railing is larger than 12.6 inches, we recommend the separately available webbing straps for railings up to 25.2 inches circumference (art. no. 19040).
Please observe the assembly
instructions
and read the safety instructions carefully before assembly. Included in the package are: Two balcony brackets incl. one strap each in the matching colour. Suitable for BALCONERA 50 and 80.
The LECHUZA balcony brackets extension is available separately (art. no. 19034), which is particularly suitable for balcony railings with wide spacing between the bars. It prevents the brackets from slipping and stabilises your balcony boxes vertically on the railing.
Product information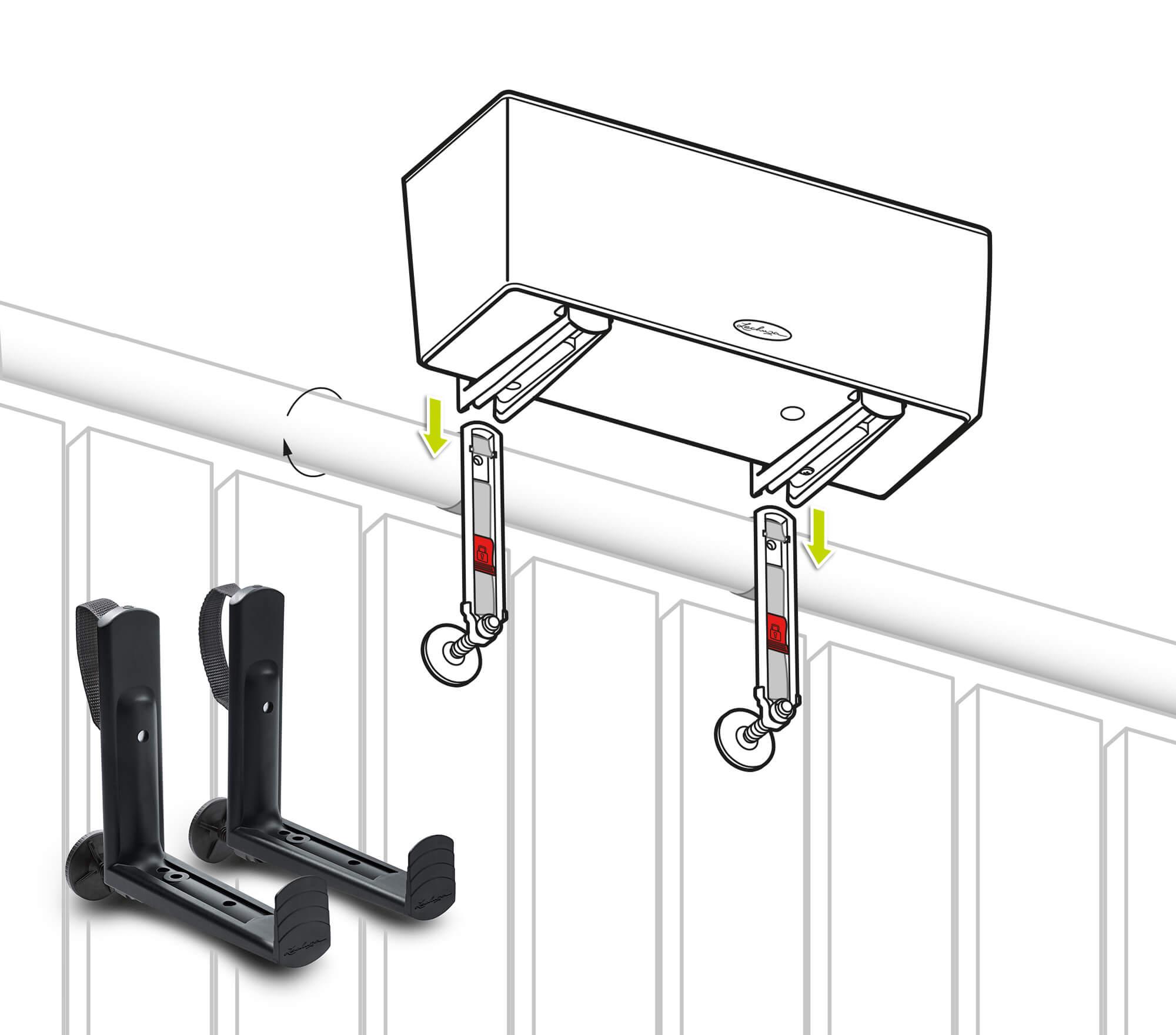 LECHUZA balcony brackets
easy installation, sturdy support
compatible with BALCONERA 50 and 80
suitable for mounting on round and angled railings with a circumference up to 15 inches
soft textile straps prevent scratching of railings
can carry up to 25 kg
suitable for mounting on walls
With the adjustable screws, you can position BALCONERA so that it's level with your railing
The brackets are invisible from the front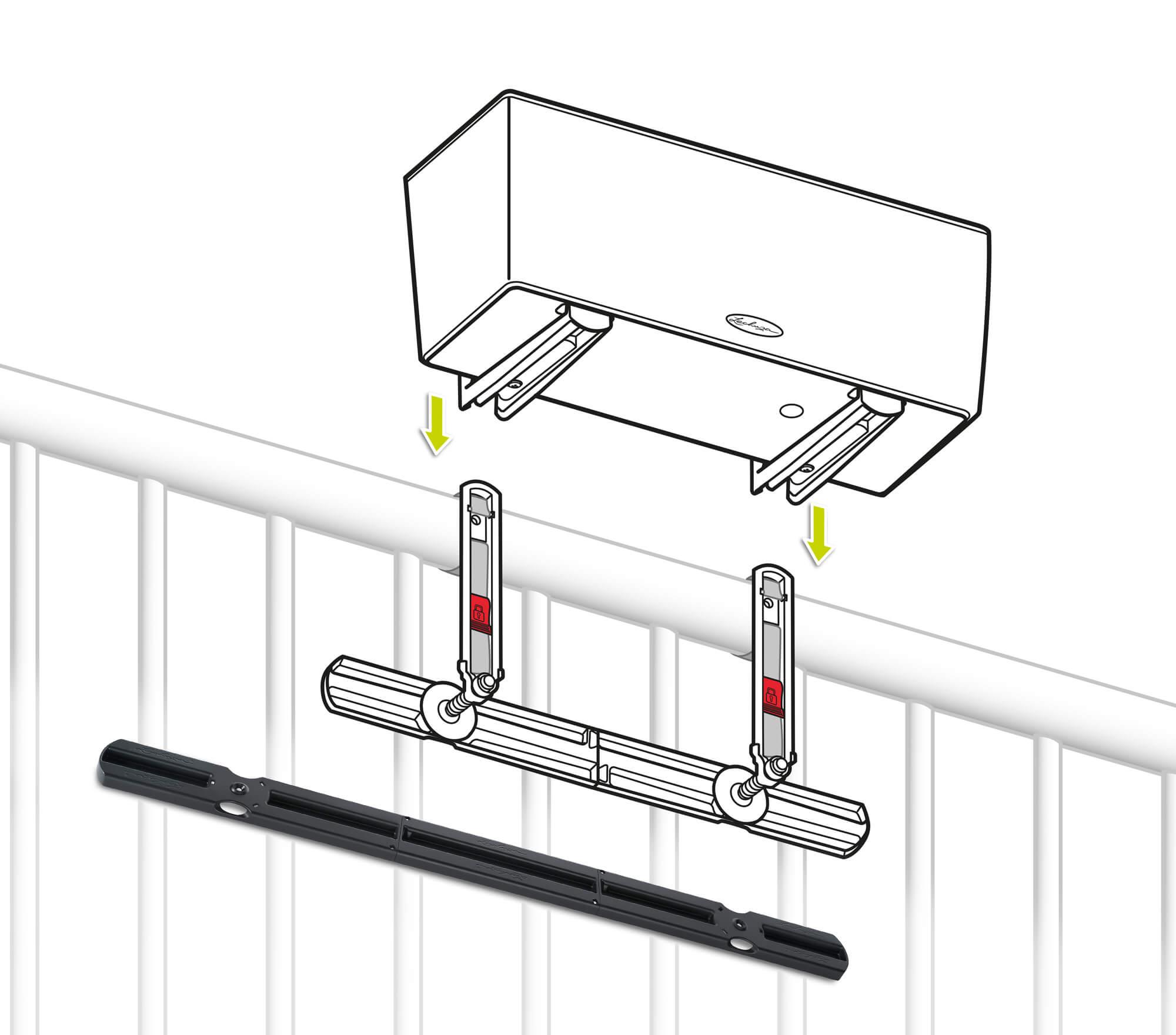 Available Accessories: LECHUZA extension for balcony brackets
a supplement for railings, ensuring compatibility regardless of spindle spacing
securely and perfectly fits every railing
compatible with BALCONERA 50 and 80
¹ Discount applies to item of equal or lesser value. A lechuza.us exclusive. While supplies last. Offer is valid on in-stock-items. Offer not valid on prior orders or pending orders. No adjustments can be made on previous purchases. Cannot be combined with any other promotion and/or offer. Promotional discount cannot be redeemed for cash or credit. No rain checks. Discount will be reflected at checkout once two items are added to the cart. Offer valid from June 1-12, 2023 (offer ends 11:59 P.M. E.S.T.).