CUBICO Color 22 white
CUBICO Color in new colors
plus shipping
Shipping and Handling
Up to US$ 25.00 = US$ 4.95
US$ 25.01 - US$ 40.00 = US$ 6.95
US$ 40.01 - US$ 50.00= US$ 8.95
US$ 50.01 - US$ 60.00 = US$ 10.95
US$ 60.01 - US$ 70.00 = US$ 12.95
US$ 70.01 - US$ 80.00 = US$ 14.95
US$ 80.01 - US$ 90.00 = US$ 16.95
US$ 90.01 - US$ 100.00 = US$ 18.95
US$ 100.01 - US$ 150.00 = US$ 20.95
Over US$ 150.00 = free shipping
Please note that due to the high data volume, the 3D viewer should be loaded with an existing WLAN connection. On mobile devices, the viewer allows you an augmented reality (AR) function. You can visualize a LECHUZA planter in your room. To do so, please click on the cube icon.
CUBICO Color in the All-in-One Set is now available in the new colors nutmeg, purple garnet and slate. Nutmeg is a warm tone that fits perfectly with modern interior design. Purple garnet is a rich, berry color that ideally showcases both stand-alone planters and planter arrangements. Slate perfectly complements both of these colors.
CUBICO coaster: Coasters for CUBICO 30 and CUBICO 40 are available in black.
Product information
CUBICO Planter liner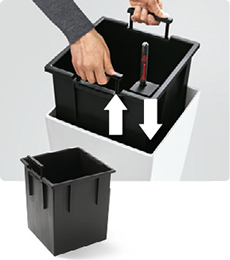 sturdy carrying handles (patented)
easy transport even for tall plantings
can be exchanged on the spot and easily moved for winter storage
The CUBICO 30 planter liner also fits in the TRIO 30, the CUBICO 40 planter liner also in the CUBE 40, CUBICO Alto and TRIO 40.
drain plug: is removed to allow excess rainwater to drain when used outdoors
Available accessories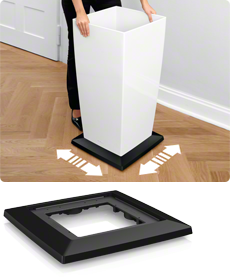 CUBICO Coaster
mobile in every direction
with four sturdy rollers
available for CUBICO 30 and 40
Dimensions & Capacity
| | | | |
| --- | --- | --- | --- |
| | CUBICO Color 22 | CUBICO Color 30 | CUBICO Color 40 |
| Dimensions ~ (W x D x H) | 8.7 x 8.7 x 16.1 inch | 11.6 x 11.6 x 22.2 inch | 15.6 x 15.6 x 29.7 inch |
| Water reservoir | 68 US.fl.oz | 1.0 US.liq.gal | 2.0 US.liq.gal |
| Plant volume | 1.3 US.dry.gal | 3.2 US.dry.gal | 7.0 US.dry.gal |
| Planter liner, dimension ~ | 7.3 x 7.3 inch | 9.9 x 9.9 inch | 13.6 x 13.6 inch |
| Planting depth | 7.0 inch | 9.0 inch | 11 inch |
| Plant height max. | 20.0 inch | 24 inch | 39 inch |
CUBICO Color 22
| | |
| --- | --- |
| Dimensions ~ (W x D x H) | 8.7 x 8.7 x 16.1 inch |
| Water reservoir | 68 US.fl.oz |
| Plant volume | 1.3 US.dry.gal |
| Planter liner, dimension ~ | 7.3 x 7.3 inch |
| Planting depth | 7.0 inch |
| Plant height max. | 20.0 inch |
CUBICO Color 30
| | |
| --- | --- |
| Dimensions ~ (W x D x H) | 11.6 x 11.6 x 22.2 inch |
| Water reservoir | 1.0 US.liq.gal |
| Plant volume | 3.2 US.dry.gal |
| Planter liner, dimension ~ | 9.9 x 9.9 inch |
| Planting depth | 9.0 inch |
| Plant height max. | 24 inch |
CUBICO Color 40
| | |
| --- | --- |
| Dimensions ~ (W x D x H) | 15.6 x 15.6 x 29.7 inch |
| Water reservoir | 2.0 US.liq.gal |
| Plant volume | 7.0 US.dry.gal |
| Planter liner, dimension ~ | 13.6 x 13.6 inch |
| Planting depth | 11 inch |
| Plant height max. | 39 inch |
¹ A lechuza.us exclusive. While supplies last. Offer is valid on in-stock-items. Offer not valid on prior orders or pending orders. No adjustments can be made on previous purchases. Cannot be combined with any other promotion and/or offer. Promotional discount cannot be redeemed for cash or credit. No rain checks. Discount will be reflected at checkout. Offer valid from Sep 22 - Oct 2, 2023 (offer ends 11:59 P.M. E.S.T.)