CUBICO Cottage 30 mocha
Romantic Country-Look
Availability:
This item is currently not available.
plus shipping
Shipping and Handling
Up to US$ 25.00 = US$ 4.95
US$ 25.01 - US$ 40.00 = US$ 6.95
US$ 40.01 - US$ 50.00= US$ 8.95
US$ 50.01 - US$ 60.00 = US$ 10.95
US$ 60.01 - US$ 70.00 = US$ 12.95
US$ 70.01 - US$ 80.00 = US$ 14.95
US$ 80.01 - US$ 90.00 = US$ 16.95
US$ 90.01 - US$ 100.00 = US$ 18.95
US$ 100.01 - US$ 150.00 = US$ 20.95
Over US$ 150.00 = free shipping
Please note that due to the high data volume, the 3D viewer should be loaded with an existing WLAN connection. In the mobile view, the viewer allows you an augmented reality (AR) function. You can visualize a LECHUZA planter in your room.
With a natural wicker surface, CUBICO Cottage spreads a rustic country house feeling. The LECHUZA classic in country style skillfully stages individual flowering plants or lush arrangements - from a height of 65 cm, they become an eye-catcher in outdoor areas.

The fine wicker structure of the planters from the Cottage Collection offers a wide range of applications on the terrace or in the garden. With the original LECHUZA self-watering system, the removable plant insert, the integrated overflow function and the robust surfaces, the Cottage Collection planters are ideal partners for any outdoor garden season. The colour-neutral, removable plant inserts can be exchanged with all CUBICO models of the same size.

With the matching roller coaster for CUBICO 30 and CUBICO 40, the plant arrangements always remain mobile.
Product information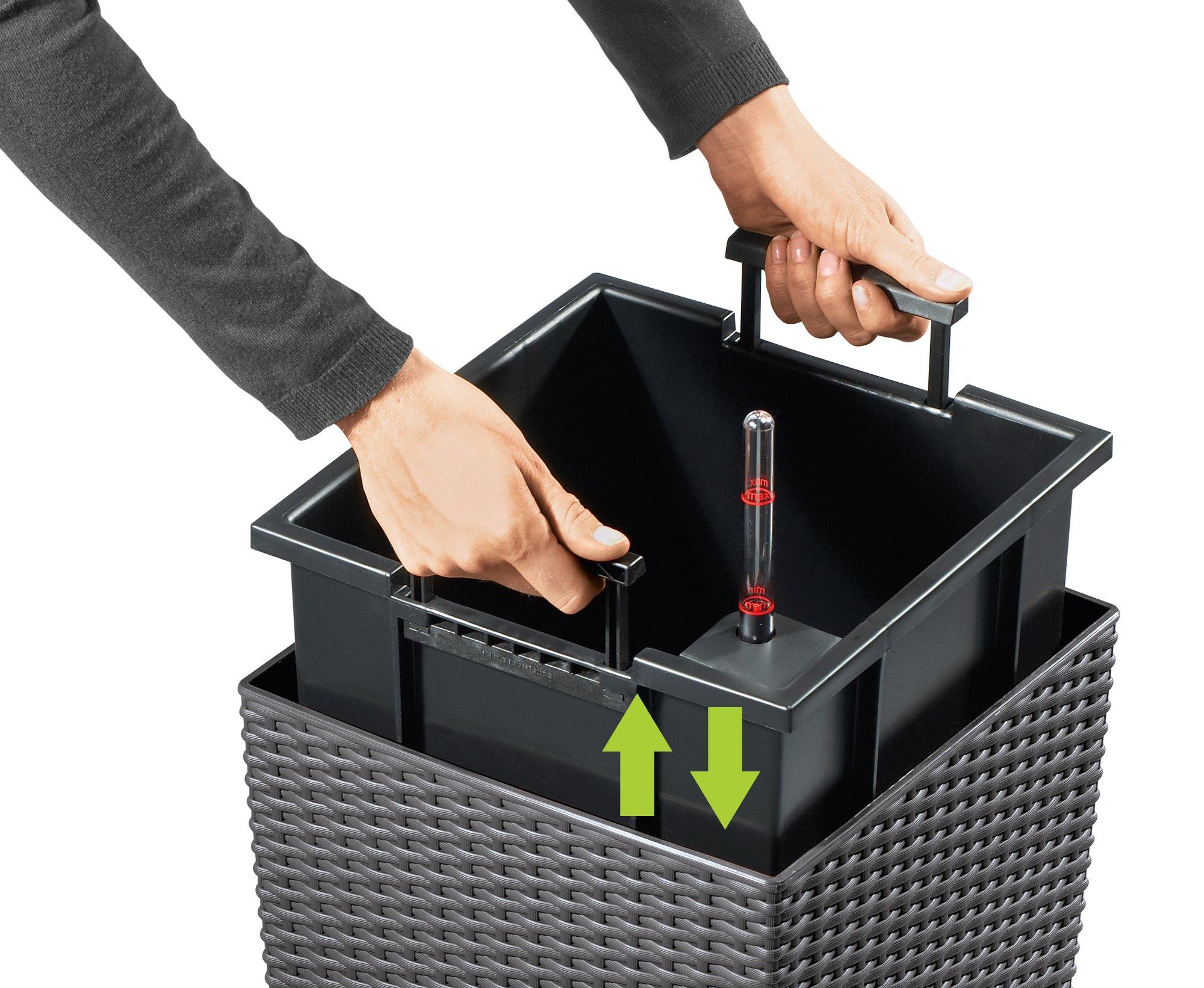 CUBICO planter liner
sturdy carrying handles (patented)
easy transport even for tall plantings
can be exchanged on the spot
easily moved for space-saving winter storage
The CUBICO 30 planter liner also fits in the TRIO 30, the CUBICO 40 and ALTO planter liner also fit in the CUBE 40 and TRIO 40.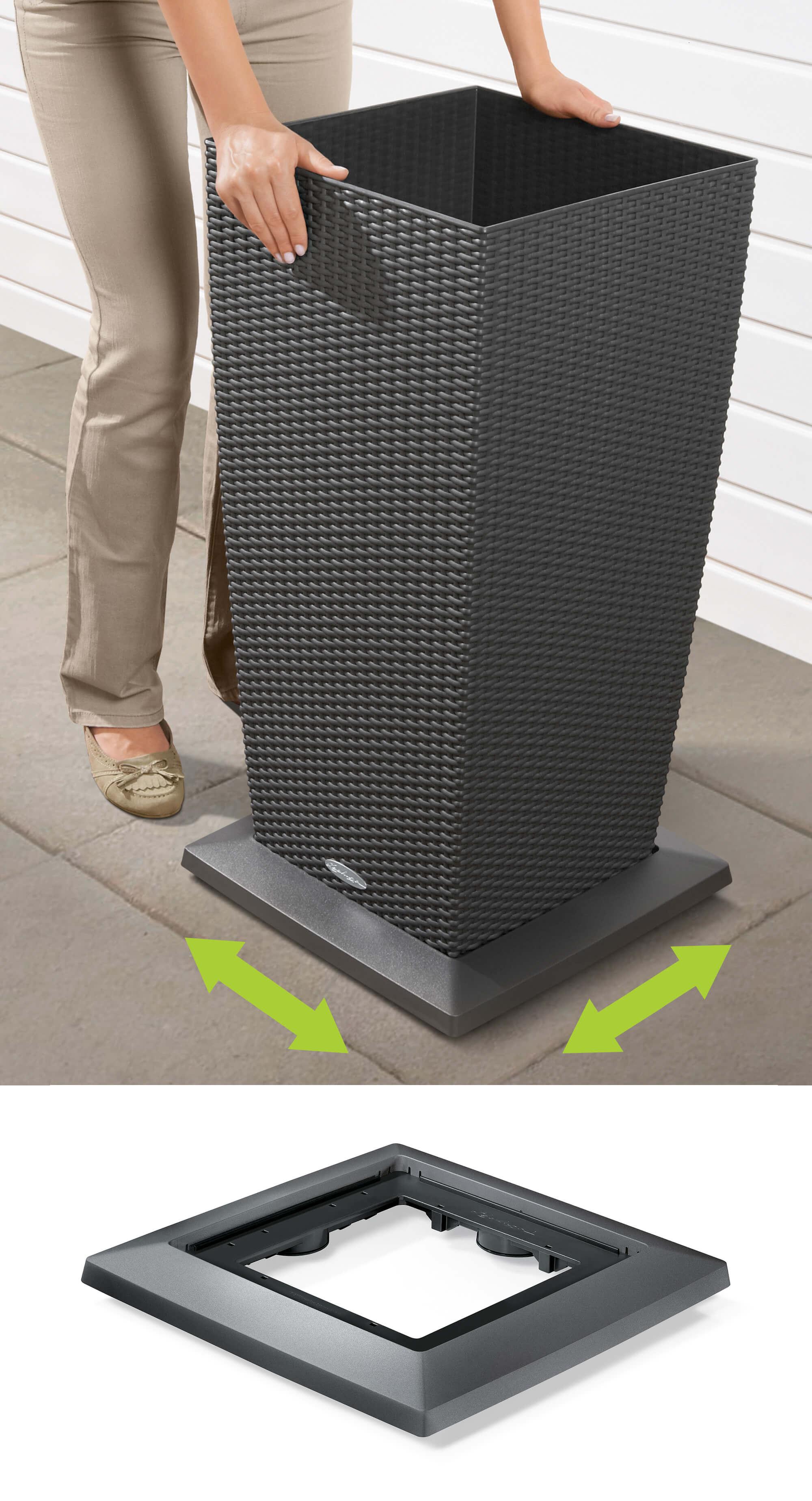 Available accessories: CUBICO Coaster
mobile in every direction
with four sturdy rollers
available for CUBICO 30 and 40
Dimensions & Capacity
| | | |
| --- | --- | --- |
| | CUBICO Cottage 30 | CUBICO Cottage 40 |
| Dimensions ~ (W x D x H) | 11.6 x 11.6 x 22.3 inch | 15.6 x 15.6 x 29.7 inch |
| Water reservoir | 1.0 US.liq.gal | 2.0 US.liq.gal |
| Plant volume | 3.2 US.dry.gal | 7.0 US.dry.gal |
| Planter liner, dimension ~ | 9.9 x 9.9 inch | 13.6 x 13.6 inch |
| Planting depth | 9.0 inch | 11.0 inch |
| Plant height max. | 24.0 inch | 39.0 inch |
CUBICO Cottage 30
| | |
| --- | --- |
| Dimensions ~ (W x D x H) | 11.6 x 11.6 x 22.3 inch |
| Water reservoir | 1.0 US.liq.gal |
| Plant volume | 3.2 US.liq.gal |
| Planter liner, dimension ~ | 9.9 x 9.9 inch |
| Planting depth | 9.0 inch |
| Plant height max. | 24.0 inch |
CUBICO Cottage 40
| | |
| --- | --- |
| Dimensions ~ (W x D x H) | 15.6 x 15.6 x 29.7 inch |
| Water reservoir | 2.0 US.liq.gal |
| Plant volume | 7.0 US.dry.gal |
| Planter liner, dimension ~ | 13.6 x 13.6 inch |
| Planting depth | 11.0 inch |
| Plant height max. | 39.0 inch |
¹ A lechuza.us exclusive. While supplies last. Offer is valid on in-stock-items. Offer not valid on prior orders or pending orders. No adjustments can be made on previous purchases. Cannot be combined with any other promotion and/or offer. Promotional discount cannot be redeemed for cash or credit. No rain checks. Discount will be reflected at checkout. Offer valid from January 12-20, 2022 (offer ends 11:59 P.M. E.S.T.)