Green Wall Home Kit Glossy scarlet red high-gloss
Make every room shine
plus shipping
Shipping and Handling
Up to US$ 25.00 = US$ 4.95
US$ 25.01 - US$ 40.00 = US$ 6.95
US$ 40.01 - US$ 50.00= US$ 8.95
US$ 50.01 - US$ 60.00 = US$ 10.95
US$ 60.01 - US$ 70.00 = US$ 12.95
US$ 70.01 - US$ 80.00 = US$ 14.95
US$ 80.01 - US$ 90.00 = US$ 16.95
US$ 90.01 - US$ 100.00 = US$ 18.95
US$ 100.01 - US$ 150.00 = US$ 20.95
Over US$ 150.00 = free shipping
Please note that due to the high data volume, the 3D viewer should be loaded with an existing WLAN connection. On mobile devices, the viewer allows you an augmented reality (AR) function. You can visualize a LECHUZA planter in your room. To do so, please click on the cube icon.
With the Green Wall Home Kit Glossy from LECHUZA, a space-saving and eye-catching wall greening is created in a flash.

Thanks to the practical magnetic brackets, the three CUBE Glossy 14 planters can be attached easily to the corresponding metal bar on the wall. The high quality, extra strong magnets ensure a secure hold. Even small garden hanging from unusual places can be created.

For stress-free plant care without daily watering
The LECHUZA irrigation system takes the stress out of plant care. Plants can easily be placed into the Glossy containers with the liner, without the need for time-consumuming repotting. A stick inserted into the liner from below transports moisture evenly to the roots. The water level indication can be used to check when it's time fo refill the resevoir. Plant care canbe that simple!

Intended use:
Only use the Green Wall Home Kit as described in the instructions. Any other use or modification of the product is not permitted.
The maximum total weight of a CUBE Glossy 14 planters with plants and water must not exceed 1.75 kg (3.85 lbs)
Product information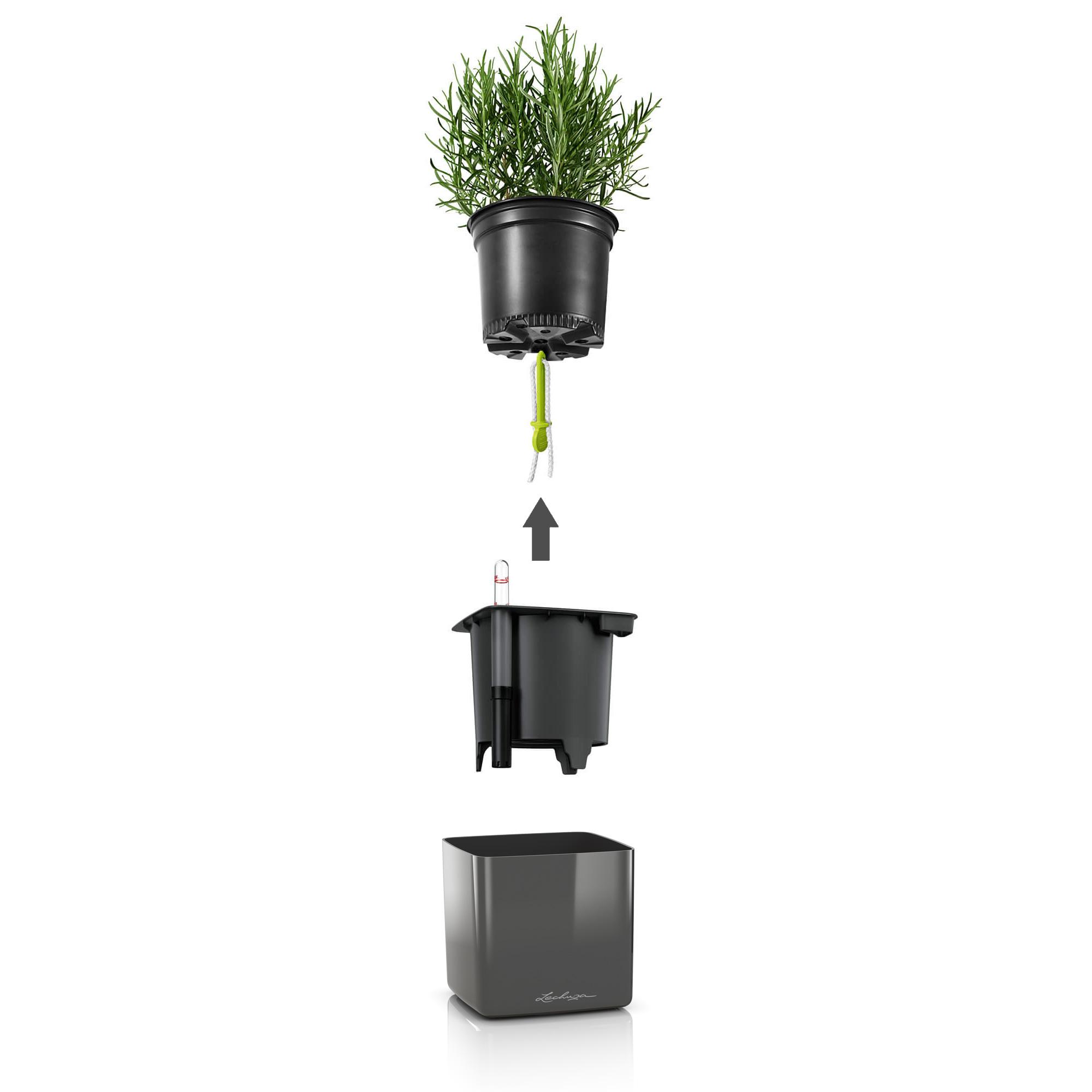 Wick
With wick irrigation system
No repotting necessary - simply place store-bought herbs with grow pot in the planter
Food safe
Easy to use
Insert wick in the grow pot.
Place grow pot in CUBE Glossy, water - done.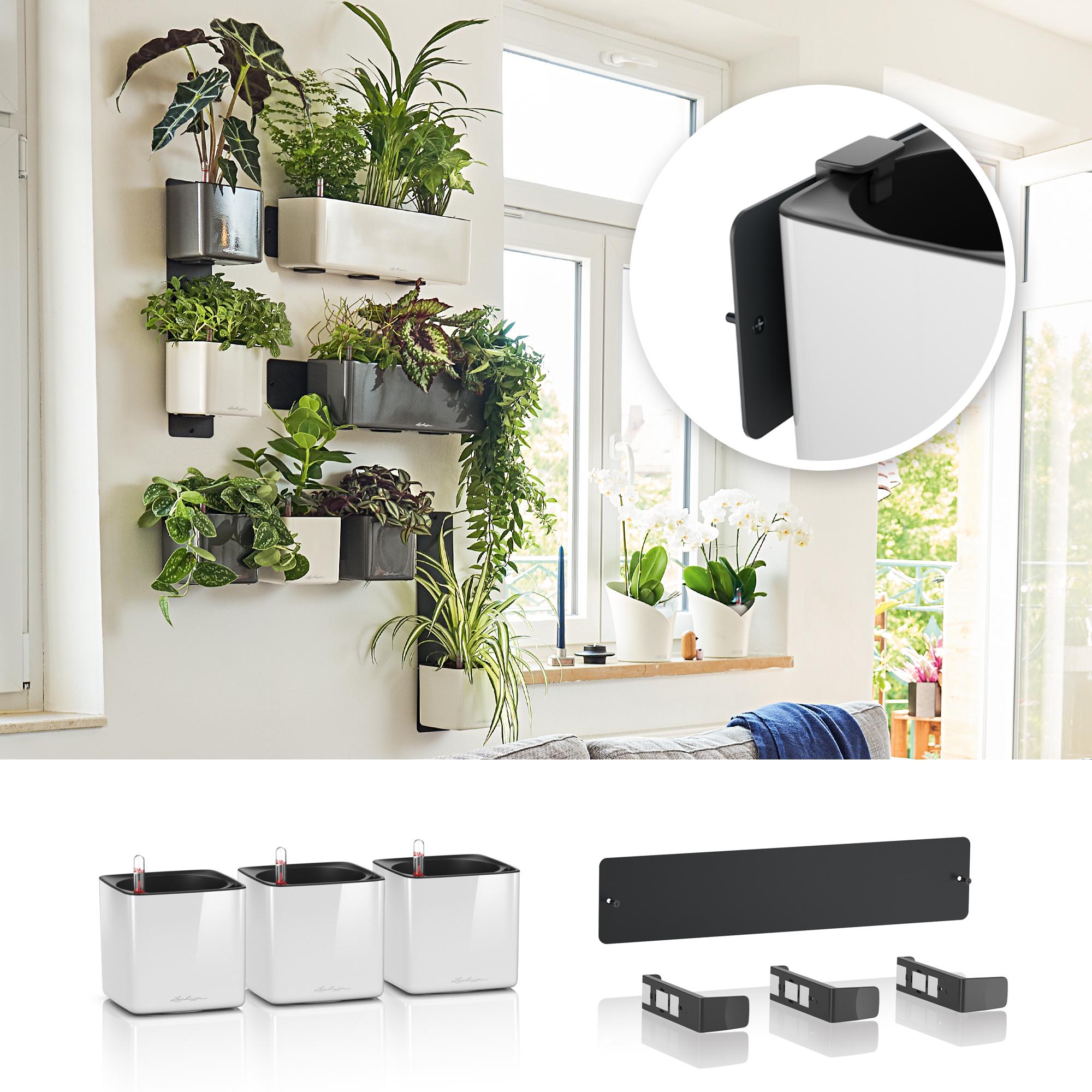 Green Wall Home Kit
The Green Wall Home Kit with magnetic brackets and metal bar brings high-gloss style to your walls – even in the bathroom. Whether it´s for a classical look for plantscaping walls or as a creative way to hold make-up accessories – ideas abound!
3 × Planter with liner + wicks + 3 × magnetic holder + metal bar + screws
Metal bar: 19 x 4 inch
Magnetic brackets: 2 x 5 inch
Dimensions & Capacity
Green Wall Home Kit Glossy
| | |
| --- | --- |
| Dimensions ~ (W x D x H) | 19 x 6.3 x 5.5 inch |
| Water reservoir | 3 x 14 US.fl.oz |
| Plant volume | 3 x Growpot |
| Planter liner, dimension ~ | 3 x Ø 3.9 - 4.7 inch |
| Plant height max. | 8 inch |
¹ Discount applies to item of equal or lesser value. A lechuza.us exclusive. While supplies last. Offer is valid on in-stock-items. Offer not valid on prior orders or pending orders. No adjustments can be made on previous purchases. Cannot be combined with any other promotion and/or offer. Promotional discount cannot be redeemed for cash or credit. No rain checks. Discount will be reflected at checkout once two items are added to the cart. Offer valid from June 1-12, 2023 (offer ends 11:59 P.M. E.S.T.).