YULA plant bag white/gray semi-gloss
Modern Living
Availability:
This item is currently not available.
plus shipping
Shipping and Handling
Up to US$ 25.00 = US$ 4.95
US$ 25.01 - US$ 40.00 = US$ 6.95
US$ 40.01 - US$ 50.00= US$ 8.95
US$ 50.01 - US$ 60.00 = US$ 10.95
US$ 60.01 - US$ 70.00 = US$ 12.95
US$ 70.01 - US$ 80.00 = US$ 14.95
US$ 80.01 - US$ 90.00 = US$ 16.95
US$ 90.01 - US$ 100.00 = US$ 18.95
US$ 100.01 - US$ 150.00 = US$ 20.95
Over US$ 150.00 = free shipping
Please note that due to the high data volume, the 3D viewer should be loaded with an existing WLAN connection. On mobile devices, the viewer allows you an augmented reality (AR) function. You can visualize a LECHUZA planter in your room. To do so, please click on the cube icon.
A staple of modern living is a straightforward style that does not require many design elements. This means turning your home into a small, individual paradise with just a few simple steps and selected favorites. The YULA collection from LECHUZA is a perfect match for this trend.

With harmonious pastel colors, matte surfaces and clean forms, the planters can be integrated into any interior. Small apartments can be quickly and easily decorated with the modern YULA collection. The purchased plants do not even have to be re-potted, but can remain in their grow pot, are provided with an embroidery and placed in the plant container or the plant bag. The irrigation system provides the plants with a constant supply of water and ensures that they are optimally supplied over a longer period of time. This means that constant watering is no longer necessary and nothing stands in the way of a weekend getaway - simply fill up the water reservoir and the plants take care of themselves for several days.

This makes the YULA containers ideal for anyone who wants to decorate their home with plants but does not have green fingers. Thanks to the simple sub-irrigation system, plants can be exchanged and redecorated at any time - perfect for a new, individual look every time! In the handy table pot format, there is room for the YULA family everywhere.
Product information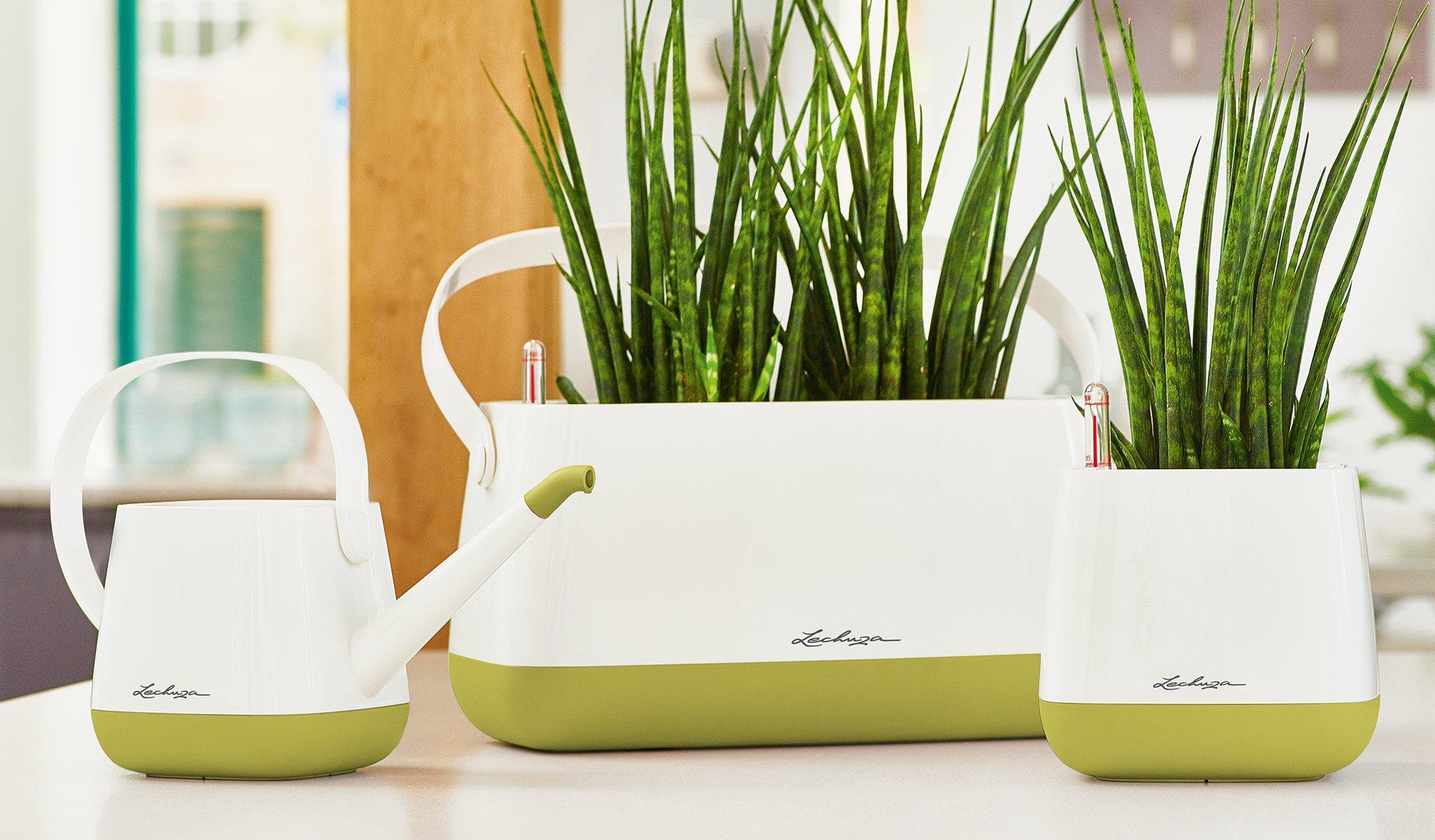 #ModernLiving with the stylish product series YULA
YULA plant bag + YULA planter + YULA watering can + YULA flower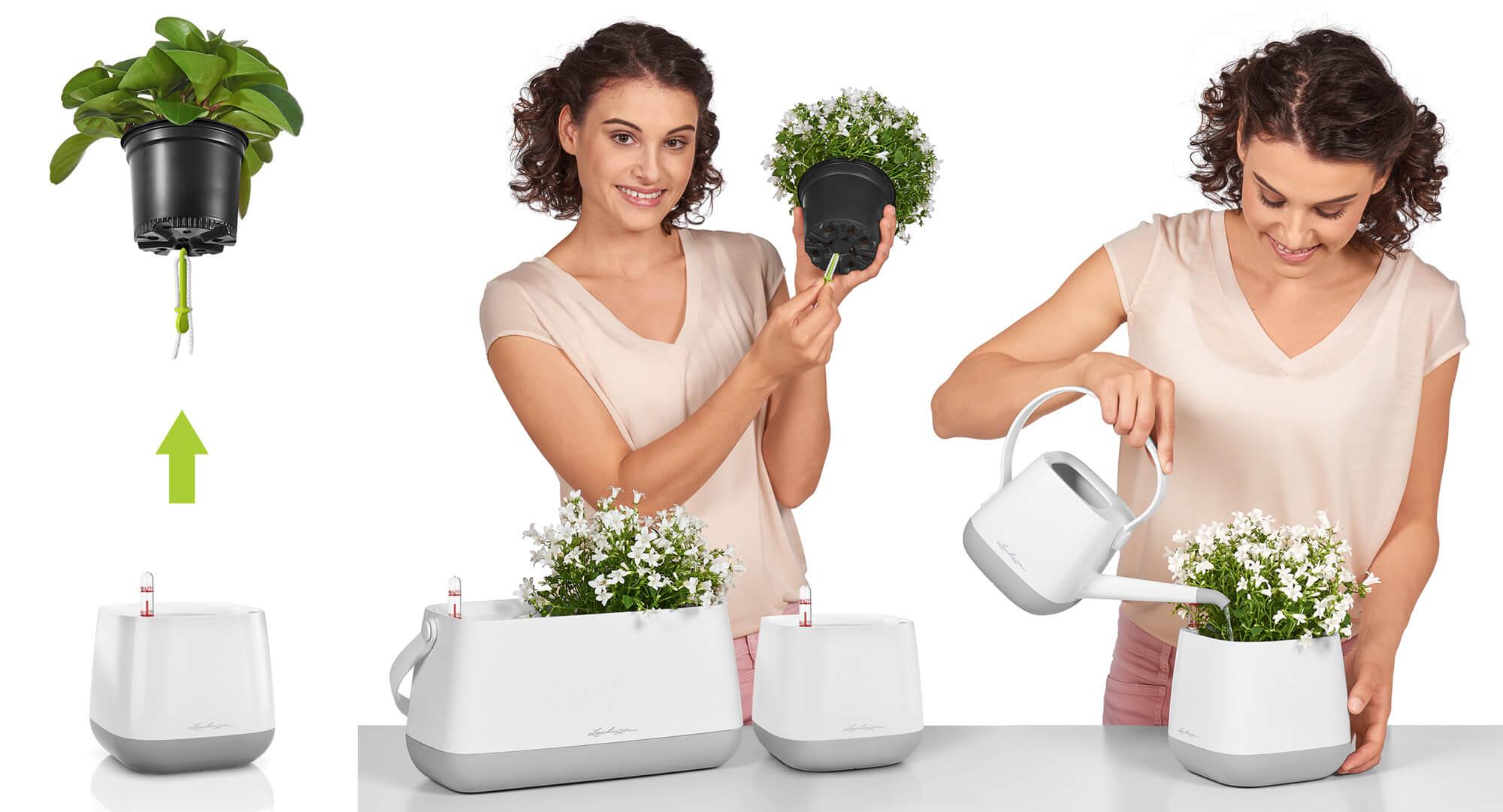 The proven LECHUZA wick system
With wick irrigation system
No repotting necessary. Simply place store-bought herbs and flowering plants with grow pot into the planter
Food safe
Easy to use
Insert wick in the grow pot. Place grow pot in YULA plant bag, water, and done.
Dimensions & Capacity
YULA plant bag
| | |
| --- | --- |
| Dimensions ~ (W x D x H) | 15 x 6.7 x 7.2 inch |
| Water reservoir | 30 US.fl.oz |
| Plant volume | Growpot |
| Planter liner, dimension ~ | Ø 5.5 inch |
| Plant height max. | 10 inch |
¹ A lechuza.us exclusive. While supplies last. Offer is valid on in-stock-items. Offer not valid on prior orders or pending orders. No adjustments can be made on previous purchases. Cannot be combined with any other promotion and/or offer. Promotional discount cannot be redeemed for cash or credit. Minimum purchase $50. No rain checks. Discount will be reflected at checkout. Offer valid from March 13-22, 2023 (offer ends 11:59 P.M. E.S.T.)