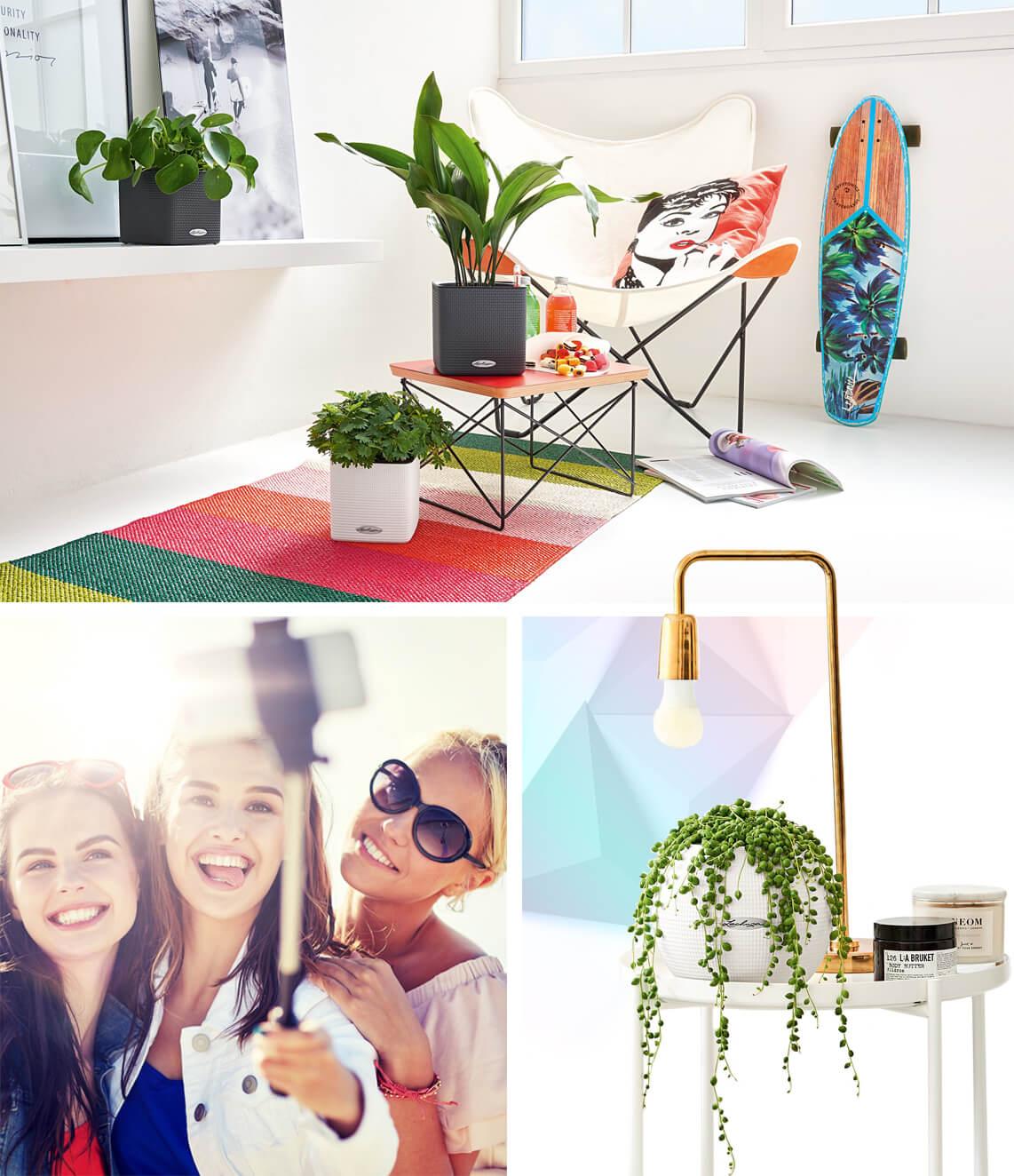 Young Modern Living
At home in the most fashionable section of the city
There's a lot of activity outside and, with bright colors and stylish accessories, your home fits in perfectly with your lively lifestyle. Whether round or square, classic or unconventional, a colorful mix will give your interior a fresh retouch. The variety of products in LECHUZA's TREND Collection gives you the freedom you need to express yourself.
Mid-Century Style
Skillfully classic
Give a nostalgic touch to modern settings with designs from the past century. Original furnishings from various style eras create the perfect place for creative minds. With trendy colors and lots of light, you'll create a skillful retro look that'll make your guests reminisce. The neutral and earthy colors of the planters from LECHUZA's PREMIUM Collection offer a beautiful contrast to wood and warm nuances.

Luxury Glam
Noble designs and clear edge
Dark walls and carpeting do more than just create a cozy feel. Combined with smooth surfaces and striking contours, they bring a touch of glamour to your home. Your home becomes an exclusive setting and everyone is looking for a place on your guest list.
With the right choice of shapes and colors, you can ensure a seamless relationship between classic and extravagance. In shrill red, the CURVISO becomes a real eye-catcher that can easily be staged. Proven classics such as the CLASSICO Color provide the necessary peace and quiet in a lively environment.

Urban Indoor Jungle
Tropical forest retreat
With Monstera, fern and Co., you can turn your home into a place of dreams. Clear lines and modern designs, which form a clean contrast to the adventurous splendor of the plants, ensure order in the exotic indoor jungle. The intelligent self-watering system of LECHUZA containers with a water reservoir supports you in the care of your jungle plants during your next vacation. In their natural colors, the CANTO Stone and CLASSICO LS also offer your green darlings enough space to grow and thrive.

Even exotics feel at home here: