CASCADINO Color Single hanging planter slate
For flowers, herbs, fruits and vegetables
plus shipping
Shipping and Handling
Up to US$ 25.00 = US$ 4.95
US$ 25.01 - US$ 40.00 = US$ 6.95
US$ 40.01 - US$ 50.00= US$ 8.95
US$ 50.01 - US$ 60.00 = US$ 10.95
US$ 60.01 - US$ 70.00 = US$ 12.95
US$ 70.01 - US$ 80.00 = US$ 14.95
US$ 80.01 - US$ 90.00 = US$ 16.95
US$ 90.01 - US$ 100.00 = US$ 18.95
US$ 100.01 - US$ 150.00 = US$ 20.95
Over US$ 150.00 = free shipping
Whether as a standalone planter or a 2 or 3-pc tower, whether as a combination of both sizes or just a single size – CASCADINO and CASCADA Color can be adapted to meet your individual needs and are some of the most versatile planters available.
Set components

CASCADINO Color slate
Item No. 14994

CASCADINO suspension accessory slate
Item No. 14996
Product information
Many different combinations: CASCADA and CASCADINO can be used as single planters or as towers, and the CASCADINO also as a hanging planter.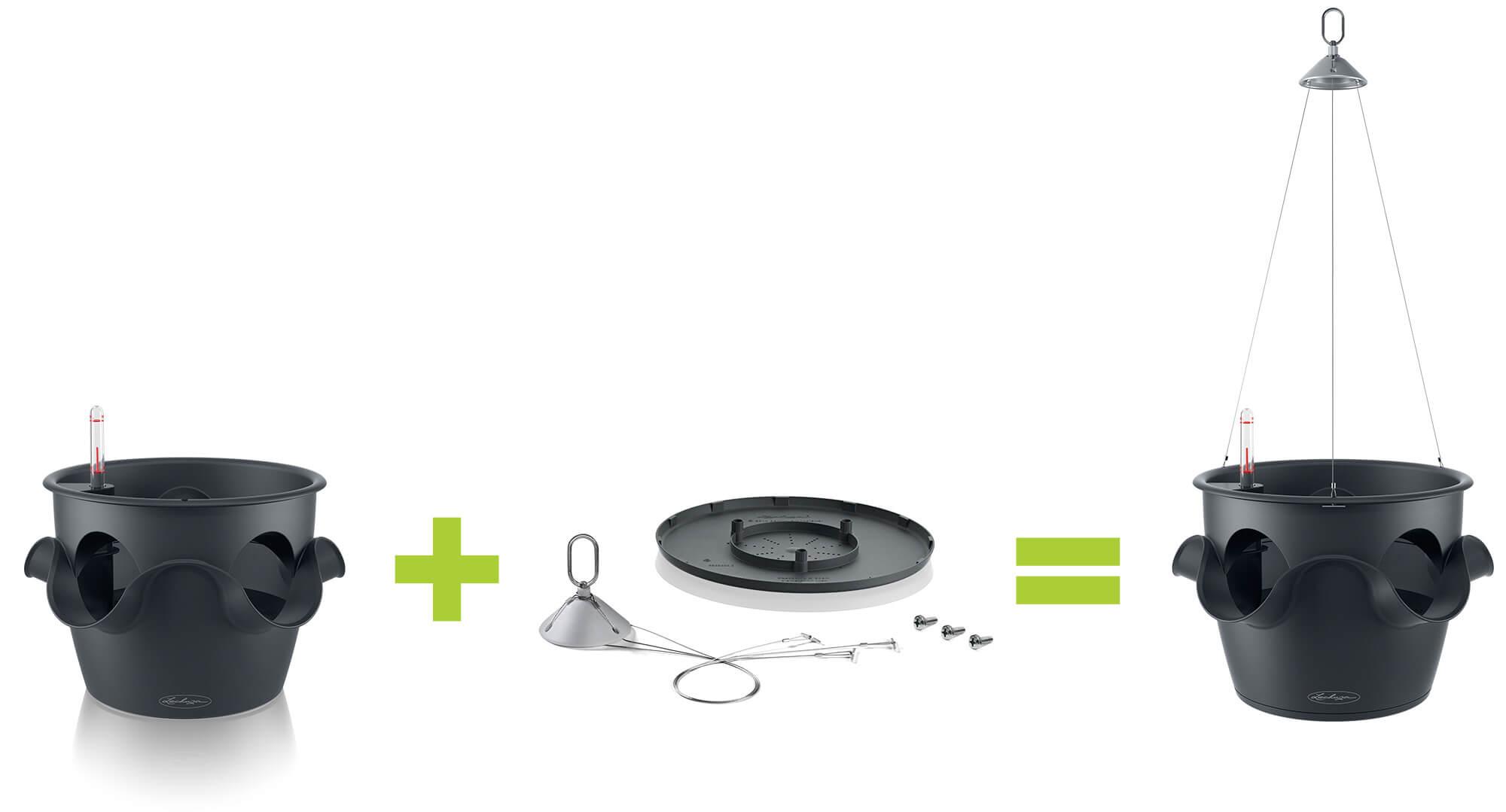 stand-alone planter + suspension = single hanging planter
stand-alone planter CASCADA + stand-alone planter CASCADINO + expansion set for 2-pc tower = 2-pc tower CASCADA / CASCADINO
Dimensions & Capacity
| | | | |
| --- | --- | --- | --- |
| | CASCADINO Color | CASCADINO Color hanging planter | 2-pc tower CASCADA / CASCADINO Color |
| Dimensions ~ (W x H) | Ø 14.2 x 9 inch | Ø 14.2 x 9 inch | Ø 19.3 x 25.6 inch |
| Water reservoir | 0.7 US.liq.gal | 0.7 US.liq.gal | 2.1 US.liq.gal / 0.7 US.liq.gal |
| Plant volume | 1.8 US.dry.gal | 1.8 US.dry.gal | 3.9 US.dry.gal / 1.8 US.dry.gal |
| Planting depth | 6.3 inch | 6.3 inch | 6.3 inch |
| Plant height max. | 12 inch | 12 inch | 12 inch |
2-pc tower CASCADA / CASCADINO Color
| | |
| --- | --- |
| Dimensions ~ (W x H) | Ø 19.3 x 25.6 inch |
| Water reservoir | 0.7 US.liq.gal / 2.1 USl.liq.gal |
| Plant volume | 1.8 US.dry.gal / 3.9 US.dry.gal |
| Planting depth | 6.3 inch |
| Plant height max. | 12 inch |
CASCADINO Color hanging planter
| | |
| --- | --- |
| Dimensions ~ (W x H) | Ø 14.2 x 9 inch |
| Water reservoir | 0.7 US.liq.gal |
| Plant volume | 1.8 US.dry.gal |
| Planting depth | 6.3 inch |
| Plant height max. | 12 inch |
CASCADINO Color
| | |
| --- | --- |
| Dimensions ~ (W x H) | Ø 14.2 x 9 inch |
| Water reservoir | 0.7 US.liq.gal |
| Plant volume | 2.1 US.liq.gal |
| Planting depth | 6.3 inch |
| Plant height max. | 12 inch |