in stock
Total price
Please note that sales tax applies in the following states: New Jersey, New York and Florida. All prices are exclusive of decoration and plant.
Standard Shipping and Handling - Free for Orders Over US $150.
All packages are shipped via UPS Standard

. For shipping to Puerto Rico, or if you would like to place an Express order, please call 1-877 LECHUZA (532-4892) or (609) 395-3019 for shipping costs and information. Shipping and handling fees are not refundable.
CUBE Cottage 50 mocha All-in-One Set
with popular wicker look in a perfect cube shape
The CUBE Cottage planter features the popular wicker look in a real cube shape with equally long sides. The CUBE Cottage is ideal for plants with a large root volume.
All-in-One Set includes
planter + planter liner + sub-irrigation set
planter liner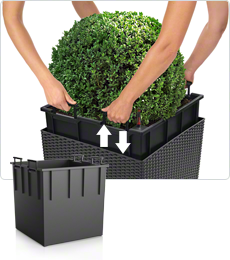 sturdy carrying handles (patented)
easy transport even for tall plantings
can be exchanged on the spot and easily moved for winter storage
The CUBE 40 planter liner also fits in the CUBICO 40 and TRIO 40.
drain plug: is removed to allow excess rainwater to drain when used outdoors
The original LECHUZA sub-irrigation system
LECHUZA's sub-irrigation system takes care of your plants for you for up to 12 weeks, ensuring that they receive the right amount of water and nutrients they need for optimum growth.